Hattiesburg Police Make Arrests in Shooting of Southern Miss Students
Tue, 11/16/2010 - 14:27pm | By: Van Arnold
Three Remain Hospitalized in Fair Condition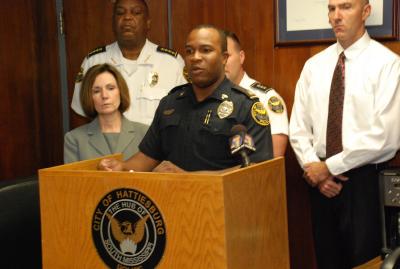 Hattiesburg Police Department spokesman Sgt. Allen Murray reads a prepared statement at a news conference today concerning the arrests of two people in connection with the shooting of three Southern Miss football players. (Photo by Steve Rouse)
Three Jeff Davis County residents are in custody and police are seeking a fourth suspect in the shooting of three University of Southern Mississippi students early Sunday morning at a Hattiesburg nightclub.
Hattiesburg Police have arrested Patricia Loftin Brown, 49, and Cleothus Wilkerson, 25, and charged each with three counts of accessory after the fact of aggravated assault. On Wednesday night, Van Allen Myers, 23, was arrested in Gulfport, Miss., and charged with one count of accessory before the fact of aggravated assault.
Three warrants for aggravated assault have also been issued for Travis "Taurus" Brown, 29, described as a black male, 6-foot-1, approximately 185 pounds, who is believed to be the gunman in the incident.
The arrests and warrants stem from the shooting of Martez Smith, Tim Green and Deddrick Jones about 1:30 a.m. Sunday outside Remington's Hunt Club in Hattiesburg. All three Southern Miss students – who are interdisciplinary studies majors and members of the Golden Eagle football team - remain hospitalized in fair condition.
Patricia Brown and Wilkerson made their first court appearances Tuesday and bond was set for each at $1.5 million ($500,000 for each accessory after the fact charge). Bond was set at $500,000 for Myers on the accessory before the fact charge.
Police spokesman Sgt. Allen Murray noted that anyone withholding information relevant to the case could also face accessory charges.
Green, a junior linebacker from Columbia, S.C., and Jones, a junior defensive lineman from Bastrop, La., played in the Golden Eagles' 31-21 victory over Central Florida Saturday afternoon in Orlando, Fla. Smith, a senior linebacker from Canton, Miss., did not make the trip because of a knee injury.
Metro Crime Stoppers is offering a $1,000 reward for information leading to further arrests. Anyone with information as to Brown's whereabouts should call the Hattiesburg Police Department's Detective Division at 601.545.4911 or Metro Crime Stoppers at 601.582.STOP or 601.582.7867.