Hospitality Executive Brav Offers Career Advice to Southern Miss Students
Fri, 11/05/2010 - 09:49am | By: Van Arnold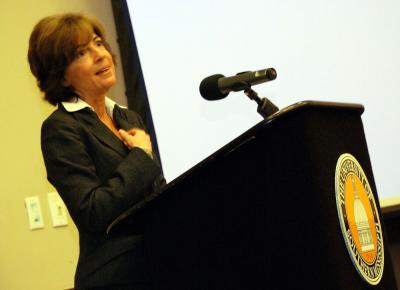 Angela Brav, chief operating officer of InterContinental Hotels Group North America, spoke to Southern Miss students at the Thad Cochran Center on the Hattiesburg campus. (Photo by Steve Rouse)
Angela Brav, chief operating officer of InterContinental Hotels Group North America, implored students to "be relentlessly self-aware" during an hour-long address at the Thad Cochran Center on the University of Southern Mississippi campus.
Brav spoke to a packed room composed primarily of business students on Thursday, Nov. 4 before making another stop in Hattiesburg to address a women's leadership conference.
"The thing I always try to stress to students is that you have to sell yourself. Know exactly who you are and what you want when you start looking for a job," said Brav. "Make any potential employer fully aware of what you bring to the table. And perhaps, most importantly, don't wait for jobs or employers to come to you; go out and find the right job that suits your talents."
As chief operating officer, Brav is responsible for leading North America mainstream operations for franchised and managed hotels including Crowne Plaza Hotels & Resorts, Hotel Indigo, Holiday Inn Hotels & Resorts, Holiday Inn Express, Staybridge Suites and Candlewood Suites.
Brav joined IHG in 1988 and has held roles of increasing responsibility throughout her tenure with the company at both the hotel and corporate levels. She has worked at IHG's headquarters in Brussels, Belgium and Guadalajara, Mexico. The company operates 4,500 hotels in 100 countries.
Laura Beth Purdie, a senior majoring in casino, hospitality and tourism management, said Brav's appearance at Southern Miss created a unique opportunity to pick the brains of a successful corporate executive.
"She told us that she only speaks to about three or four universities per year and she could easily limit her speeches to the much larger universities," said Purdie. "I think it's just amazing that she took the time to speak here at Southern Miss. "What impressed me most was the advice she gave about not having two separate lives – your work life and your home life. That you needed to find a way to have them blended into one life."
Brav also challenged the students to exercise patience in selecting a career that will bring them not only financial, but emotional rewards.
"I'll be the first to admit that there are days when I question why I chose the hospitality industry, but by and large I honestly love what I do," she said. "And that's what I want the young people here to remember most. Take as much time as you need. You can work one job for 20 years and then start another one if necessary. But you have to love what you're doing to truly be successful."