New School Zone Speed Limit in Effect on West Fourth Street
Mon, 08/16/2010 - 10:42am | By: David Tisdale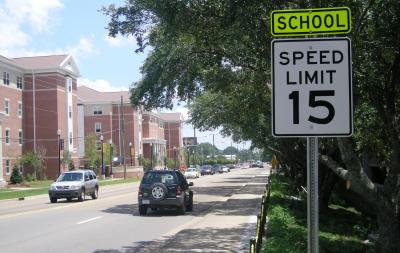 A new 15-mile per hour school zone speed limit is being strictly enforced from 7 a.m. to 10 p.m. on the section of West Fourth Street that runs through The University of Southern Mississippi Hattiesburg campus.

The newly created school zone stretches from Service Drive to Pete Taylor Park. University Police are currently giving warnings and educating violators about the new speed limit.
The change is designed to enhance safety for students who cross the street in this area. The new policy was announced earlier this summer by university and Hattiesburg city officials.
In addition to new speed limit signage, large digital display boards are in place informing motorists entering the area of the adjusted speed limit to help them become accustomed to the change.
School zone speeding violations carry a potentially enhanced fine beyond regular speeding penalties, depending on how much the speed limit is exceeded. For more information, contact University Police at 601.266.4986.