Quarterback Austin Davis Highlights Fall Football Graduating Class
Fri, 12/10/2010 - 16:59pm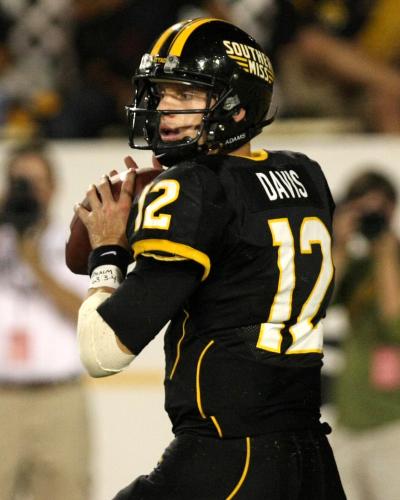 University of Southern Mississippi quarterback Austin Davis will lead the Golden Eagles against the Louisville Cardinals in the Beef O'Brady's Bowl Dec. 21 in St. Petersburg, Fla. (Submitted photo)
A total of 1,199 students were candidates for graduation at The University of Southern Mississippi Friday, including a young man by the name of Austin Davis.
The name Austin Davis may sound familiar, not because he earned his degree in business administration, not because he managed to earn that degree in just three-and-a-half years, and not because he even made the Dean's List once during his academic career. His name is probably familiar for his performance as quarterback of the Golden Eagles football team.
For Davis, being a student and an athlete at Southern Miss has been a juggling act which has kept him extremely busy, but this past week has been busier than normal.
The red-shirt junior from Meridian, Miss., has taken final exams, watched game film for the Golden Eagles' upcoming bowl contest, attended bowl-related socials in Jackson and Biloxi and sat down for a chat with university President Martha Saunders for her new video blog.
"School hasn't always come easy; I have had to work at it," said Davis, who will lead Southern Miss against Louisville in the Beef O'Brady's Bowl on Dec. 21 in St. Petersburg, Fla. "I'm not the smartest guy in the world but I have been able to be successful. "Southern Miss has a lot to do with that as well, as far as being there and giving you all the resources that I have needed to be successful."
"That is one of the things I love about Southern Miss. If you want to be successful, you can be."
Davis has compiled rather impressive stats on two fronts; in the classroom and on the playing field. In class he has twice being named to the Conference USA All-Academic Team in football. He has earned the league's Academic Medal once, while making the C-USA Honor Roll three times. In addition he has made the Dean's List once and the Athletic Director's Honor Roll (3.0-3.49 GPA) five times.
The numbers Davis has compiled in his Southern Miss football career are also quite impressive, including 7,191 passing yards and 51 touchdown passes in 30 games. This season he led the Golden Eagles to an 8-4 regular-season record after missing most of the 2009 campaign with a foot injury. He needs just two touchdown passes to become the school's all-time leader in that category.
Balancing academics with athletics has been demanding, but the Eagles' signal-caller managed to keep his focus throughout the stressful process.
"There were times that I needed a break but I just kind of pushed through it," Davis said. "So it has been nice to be able to get it done, so that now I will be able to get my master's and still be on scholarship. This is a huge privilege to be able to do that. I am going into sports coaching as a master's and I'm interested in possibly coaching one day."
Davis said he understood at an early age what it takes to be successful, not only in the world of athletics, but in the classroom as well.
"I owe a lot of credit to how I was raised and to my family as far as school goes," he said. "I am the type of person that if I am going to do something, I am going to give it everything that I have, whether it is school or football. At the end of the day, I also understand that football is not always going to be there and at some point I am going to have to have that degree to go get a job and support my family."
Davis is one of 15 Southern Miss football players eligible for graduation during the Fall Commencement. The others include: C.J. Bailey (Moss Point, Miss.), Roshaad Byrd (Meridian, Miss.), Kyle Clark (Paulina, La.), Justin Estes (Marietta, Ohio), Chico Hunter (Vicksburg, Miss.), Hendrick Leverette (Purvis, Miss.), Jonathan Massey (Pascagoula, Miss.), Michael McGee (Magee, Miss.), Johdrick Morris (Baton Rouge, La.), Martez Smith (Canton, Miss.), Korey Williams (New Orleans, La.), Justin Wilson (Taylorsville, Miss.) and Martevious Young (Alexander City, Ala.).