Several Musical Acts Highlight 'Dancing for DuBard' Event on Nov. 6
Thu, 11/04/2010 - 13:01pm | By: Van Arnold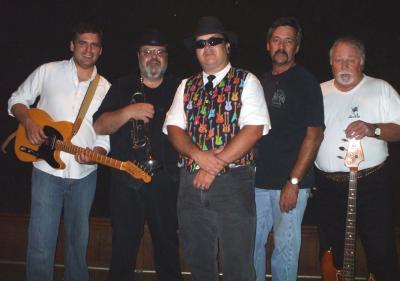 The Cowboy Blues Band is sponsoring the second annual "Dancing for DuBard" fundraiser Saturday, Nov. 6 at Mugshots in Hattiesburg. (Submitted photo)
Musical tastes to whet any appetite will be on tap Saturday, Nov. 6 at Mugshots restaurant in Hattiesburg when the second annual "Dancing for DuBard" event gets underway.
Sponsored by The Cowboy Blues Band, the event is designed as a fundraiser for the DuBard School for Language Disorders at The University of Southern Mississippi. All proceeds from the $10 ticket sales will go to the DuBard School. The evening's festivities begin at 8 p.m.
"The great generosity of The Cowboy Blues Band and the other participating artists make this event possible," said Dr. Maureen Martin, director of the DuBard School. "They have a heart for our children and their willingness to help us serve the children is deeply appreciated. Each year approximately 40-50 percent of the cost per child must be raised through private contributions. Without support such as this, services to children would be reduced considerably."
Last year's event raised approximately $1,700 for the DuBard School. Acts scheduled to perform Saturday night include The Cowboy Blues Band, Vasti Jackson, Wes Brooks and Brandon Webb of Triple Lindy, Ashley Barding, The Leaf River Blues Band and Natalie Long with Clifton Kirby of Buffalo Nickel.
The DuBard School currently includes 80 children in the full-time enrollment program with another 40 children enrolled in the out-client therapy program.
The DuBard School for Language Disorders was established in 1962 and is a clinical division of the Southern Miss Department of Speech and Hearing Sciences. The school serves children with severe language/speech disorders and/or hearing impairments and provides guidance and counseling for parents and families of the children. The school is a practicum site for university students majoring in speech-language pathology, audiology, or deaf education. For more information visit www.usm.edu/dubard/.