Six Southern Miss Staff Members Receive 2009-10 Excellence Awards
Wed, 12/08/2010 - 11:12am | By: Van Arnold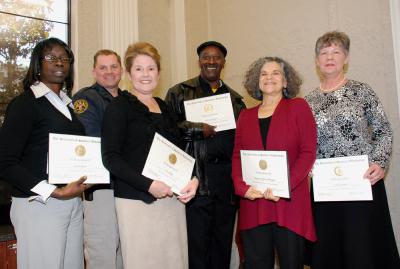 Staff Excellence Award winners for 2009-10 at The University of Southern Mississippi include, left to right: Jewel Adams, Rusty Keys, Renee Trigg, Myles Longino, Margaret Buttross-Brinegar and Polly Odom. (Office of University Communications photo by Steve Rouse)
Polly Odom, executive secretary to University of Southern Mississippi President Martha Saunders, received the Jessie H. Morrison Award for staff excellence during ceremonies held Tuesday, Dec. 7 on the Hattiesburg campus.
Odom was honored along with five others during the annual Staff Excellence Awards program which recognizes outstanding work among the more than 1,600 staff members employed by the university. The Jessie H. Morrison award is the highest honor bestowed upon a Southern Miss staffer. Morrison served as administrative assistant to three Southern Miss presidents – Dr. Richard A. McLemore, Dr. William D. McCain and Dr. Aubrey K. Lucas – and helped created an endowment to fund the staff awards upon her retirement.
"I had the pleasure of meeting Miss Jessie Morrison in 1982 when I moved to the Administration Building as a secretary in the Office of the Vice President for Academic Affairs," said Odom, who has served four presidents in her 31 years at Southern Miss. "I am honored to have received such a prestigious award named after such a genuine, quintessential professional."
Other staff award recipients included the following:
Renee Trigg, Office Personnel category. Trigg is the administrative assistant for the Southern Miss Alumni Association and has worked at the university for five years.
Jewel Adams, Office Personnel category. Adams is the senior secretary for the School of Human Performance and Recreation and has worked at the university for 14 years.
Rusty Keys, Service category. Keys is a captain and investigator with the University Police Department and has worked at the university for four years.
Myles Longino, Maintenance category. Longino is a crew leader of the Recreational Sports Custodial Department and has worked at the university for 19 years.
Margaret Buttross-Brinegar, Professional category. Buttross-Brinegar is the director of the Children's Center for Communication and Development and has worked at the university for 31 years.
The winners were nominated by their peers. Each received a commemorative plaque and a $1,200 cash award.