Southern Miss Bucks National Trend in Football Graduation Rates
Thu, 12/09/2010 - 12:06pm | By: Van Arnold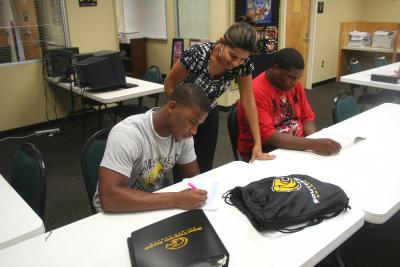 Southern Miss academic counselor Ashlesha Lokhande checks the work of freshman football players Justin Bell, left, of Bassfield, Miss., and O.C. Brown of Memphis, Tenn. (Submitted photo)
The University of Southern Mississippi has proven to be an exception to the rule concerning graduation rates for black and white football players, according to a new study released Monday.
The annual report by the University of Central Florida's Institute for Diversity and Ethics in Sports found that the graduation success rate is increasing at a higher rate for white players than black players at schools headed to bowl games this year. Except at Southern Miss, where black players are actually graduating at a higher rate (71-68 percent) than white players.
Of the 70 teams set to compete in this year's college bowl games, only Southern Miss, Notre Dame (four percent), Northwestern (one percent), Virginia Tech (three percent) and Troy (10 percent) show higher graduation rates for black players than white ones. Overall, the graduation success rate for black players climbed from 58 percent to 60 percent this year among the bowl squads. But for white players, the graduation rates increased from 77 percent to 80 percent.
"While we are pleased to see our rates ahead of the national curve, the fact is that we don't think of graduation success in terms of black and while student-athletes," said Jason Gray, senior associate athletic director, compliance and student services at Southern Miss. "Our football players know from the very beginning what is expected of them as student-athletes here at Southern Miss and our staff of academic counselors and advisors do a fine job of seeing that they stay on track."
Head coach Larry Fedora led the Golden Eagles to an 8-4 regular season record in his third year and a spot in the Beef O'Brady's Bowl in St. Petersburg, Fla., against Louisville on Dec. 21. This marks the ninth consecutive bowl appearance for Southern Miss.
Data was collected by the National Collegiate Athletic Association (NCAA) from member institutions for the study. The Institute reviewed the six-year graduation rates of each school's freshman class that enrolled in 2003-04, and then calculated a four-class average.
Notre Dame and Northwestern were the only schools that graduated 95 percent of their players and at least 95 percent of their black players.
Southern Miss Director of Athletics Richard Giannini said the minor disparity in graduation rates for black and white football players represented a testament to academic excellence shared by everyone associated with the athletic department.
"Our coaches, academic staff and student-athletes work hard to make sure academic success is our number one priority at Southern Miss," he said. "We take great pride in our consistently high graduation rates among our peer institutions."
While encouraged by the numbers, Gray insists there is vast room for improvement.
"Our goal is to have 100 percent graduation rates for all student-athletes at Southern Miss," he said. "We won't be truly satisfied until we've reached that particular number."