Southern Miss Choral Groups to Perform During West Indies Concert Tour
Tue, 12/14/2010 - 09:22am | By: Alison Crumpton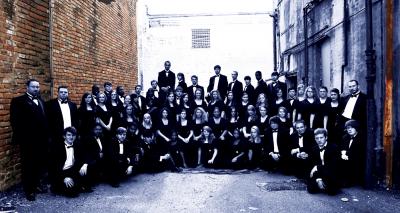 The premier touring vocal ensemble of Southern Miss, the Southern Chorale.
The University of Southern Mississippi's Southern Chorale and its men's a cappella ensemble, Spirit of Southern, will perform throughout Jamaica during a special concert tour Jan. 6-13.
Montego Bay, Kingston and Savanna-Lamar are just a few stops the ensembles will make during their first-ever visit to Jamaica. The tour will consist of several evening and afternoon concerts in cathedrals and educational institutes including University Chapel, Herbert Morrison High School and St. John's Methodist Church, along with a special wedding performance.
During the same time as the concert tour, Southern Miss choral conducting doctoral student, Joey Wolfe, will be getting married to his Jamaican fiancée, Karen Cooper. The Southern Chorale graciously offered to perform during the ceremony, making it a unique occasion.
"I guarantee this is probably one of the first weddings in Jamaica where a choral group from the United States has performed," Wolfe said. "I owe a special thanks to (choral activities director) Dr. (Gregory) Fuller for arranging this." The couple met at New Orleans Baptist Theological Seminary where Wolfe earned his master's degree.
The West Indies concert tour was precipitated by a formal invitation from the University Singers, a 40-member choral group housed at the University of West Indies in Kingston. These students have become the ambassadors for Jamaica, traveling all over the world performing in choral theatre style.
"I think that people underestimate how important choral concert tours are for choirs," said Fuller. "It has an amazing effect on the students both socially and musically. I think one of the big things we try to do here is follow opportunity."
The West Indies concert tour provides a great recruitment opportunity for Southern Miss.
"Jamaica places a high value on education," said Wolfe. "The Jamaican people know all about the Ivy League schools in the United States, but to expose them to a high level choral program like ours creates an invaluable awareness of our university, the School of Music and the many choral opportunities here at Southern Miss."
The Southern Chorale is the premiere touring vocal ensemble of the university. The 58-member chorale features a large percentage of junior, senior and graduate music majors as well as singers from other campus disciplines. The Chorale performs the complete spectrum of significant choral literature for a cappella and accompanied chorus.
The Spirit of Southern men's a cappella ensemble is composed of 16 young men ranging from freshmen to graduate students representing various academic disciplines. They regularly perform for campus activities and community functions.