Southern Miss Club Holds Fundraiser for Heart Transplant Patient
Thu, 11/18/2010 - 12:24pm | By: Van Arnold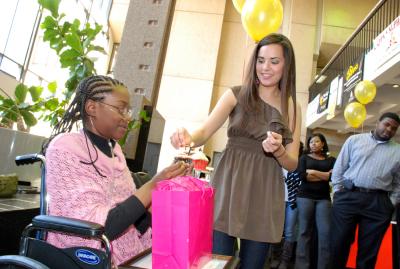 Southern Miss senior and Master Chef winner Whitney Miller, right, offers a cupcake she made to heart transplant patient Jessica Harris, of McComb, Miss., during a fundraiser held on Harris' behalf. (Office of University Communications photo by Steve Rouse)
Jessica Harris gazed up from her wheelchair barely able to contain the emotions pouring from a heart that desperately needs replacing.
"I just can't believe that all of this is for me. It makes me feel very special," said Harris, 17, the guest of honor at a birthday party/fundraiser sponsored by the Southern Miss Civitan Club on Wednesday, Nov. 17 at the university Union building.
Members of the Southern Miss club organized the fundraiser to help defray medical expenses for Harris, who hopes to receive a heart transplant in the near future. Harris, a McComb, Miss, native, was born with hypoplastic left heart syndrome, a rare congenital heart defect in which the left side of the heart is severely underdeveloped.
Strapped to an oxygen tank, Harris can only speak above a whisper but her dreams for the future remain strong.
"I want to be a fashion designer someday," said Harris, who is being home-schooled to keep up with her fellow classmates at McComb High. "I would really like to design a dress for First Lady Michelle Obama. Hopefully, I can get a new heart soon and start working toward that goal."
Southern Miss senior Whitney Miller, who recently captured the title of Master Chef on the FOX reality show, provided a birthday cake and assorted pastries for the occasion. Miller said she jumped at the opportunity to participate in the fundraiser.
"Kasey Mitchell (Student Government Association president) called me and asked if I might like to make a cake in Jessica's honor," said Miller. "I thought it was a great idea. When you see what she's going through, it really makes you appreciate the blessings you have, especially with Thanksgiving right around the corner."
The Southern Miss Civitan Club is a community volunteer service organization that supports individuals with developmental disabilities through various projects. To make a donation on Harris' behalf or learn more about the club contact Melissa Carpenter at 601.266.4403.