Southern Miss Fans Show Support, Make Donations to Injured Football Players
Tue, 11/23/2010 - 04:49pm | By: Van Arnold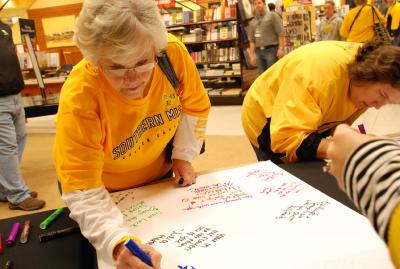 Fans sign messages of support for injured University of Southern Mississippi football players Martez Smith, Tim Green and Deddrick Jones at Barnes & Noble bookstore on the Hattiesburg campus. (Office of University Communications photo by Steve Rouse)
Proving that hearts within the Southern Miss family are stronger than ever, fans have continued to send well-wishes through written messages, cyber greetings and monetary means for injured Golden Eagles Martez Smith, Tim Green and Deddrick Jones.
The three football players, all majoring in interdisciplinary studies, were shot in the early morning hours of Nov. 14 following an altercation at a Hattiesburg nightclub. All continue to recuperate from their injuries. According to head football coach Larry Fedora, Jones and Smith have been discharged from a local hospital. Green remains hospitalized in "good" condition.
Last weekend the Office of University Communications at Southern Miss arranged tables at Barnes & Noble bookstore on campus that featured sheets of poster paper upon which fans could write special messages to the players. Hundreds of fans seized upon the opportunity to express their support for the players just a few hours before Southern Miss hosted Houston in Conference USA football action.
During the first quarter of that game, approximately 50 student-athletes, along with the Southern Miss cheerleaders, roamed the stands at M.M. Roberts Stadium collecting donations to help defray the players' medical expenses. Kristi Pierce, athletics compliance coordinator at Southern Miss, helped organize the fundraising effort which produced approximately $10,500 on the players' behalf.
"To be honest, it doesn't shock or surprise me one bit to see that kind of response from our fans," said Pierce. "We have such a loyal group of fans who care deeply about the players here."
And what was the players' reaction to this outpouring of emotional and financial support? "They were genuinely humbled when they heard that much money had been raised," said Pierce. "They are really a precious group of guys."
The Office of University Communications has also established a Web site – http://www.usm.edu/3hearts – that includes video from the Barnes & Noble signing, related photos and a place to view and leave messages for the players. Related content can also be found on the university's Facebook page at www.facebook.com/usm.edu
Smith is a senior linebacker from Canton, Miss.; Green is a junior linebacker from Columbia S.C., and Jones is a junior defensive lineman from Bastrop, La. Smith, who is paralyzed from the waist down as a result of the shooting, made a surprise appearance before the Golden Eagles' game last weekend.
Southern Miss has created a fund through its athletic foundation to assist Smith, Jones and Green with expenses not covered by insurance. Donations can be made to the Southern Miss Athletic Foundation via check. The mailing address is Southern Miss Athletic Foundation, P.O. Box 15458, Hattiesburg, MS 39404.