Southern Miss Football Team Headed to bowl game in St. Petersburg
Tue, 11/30/2010 - 14:41pm | By: Jack Duggan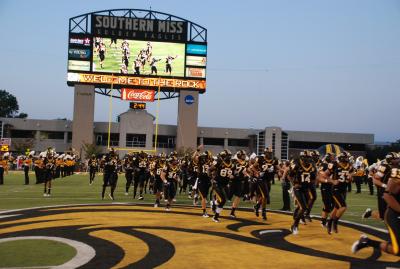 The Southern Miss football Golden Eagles have accepted an invitation to play in the Beef 'O'Brady's Bowl Dec. 21st in St. Petersburg, Fla.
The University of Southern Mississippi has accepted an invitation to play in the third annual Beef 'O' Brady's Bowl in St. Petersburg, Fla., Dec. 21, against an opponent from the Big East Conference.
The game is set for 7 p.m., CT, that evening from Tropicana Field, which is the home of Major League Baseball's Tampa Bay Rays. The game can be heard on one of the affiliates of the Southern Miss Sports Network and it will be televised live nationally by ESPN.
"Our Southern Miss football program is elated for the opportunity to play in the Beef 'O' Brady's Bowl in St. Petersburg," said Southern Miss Director of Athletics Richard Giannini. "It is a tremendous destination for our fans and our football players are excited about playing a Big East opponent. We understand from other Conference USA teams that have played in this game that the bowl treats you tremendously and it is a wonderful experience for the student-athletes and fans."
This will be the ninth consecutive football bowl appearance for the Golden Eagles and 13th in the last 14 years. The program makes its first showing in a Florida bowl game in 29 years, since playing Missouri in the 1981 Tangerine Bowl in Orlando. This will be the fourth Southern Miss bowl appearance in the state of Florida as the previous three came in the Tangerine Bowl.
"We are extremely excited about the opportunity to play in St. Petersburg in Florida," said Southern Miss coach Larry Fedora. "It is a great area with great weather and we have the opportunity to play a quality opponent from the Big East. We are thrilled about being able to play another game."
The Southern Miss Department of Athletics wants Golden Eagle fans to know that the priority deadline for tickets is Dec. 10. Ticket prices are $30 for the general public, $20 for students and $20 for band donations. Fans can go online at SouthernMiss.com, call 1-800-844-TICK (8425) or visit the Pat Ferlise Center Monday through Friday from 8 a.m., until 5 p.m., to purchase tickets. Please check with ticket representatives regarding incentives for multiple ticket purchases. Fans will also receive a free ticket to their choice of one of the Hardwood Club Basketball Classic contests, with each bowl ticket purchase, to be held at Reed Green Coliseum, Dec. 29-30.
"We want to remind everyone to purchase their tickets through the Southern Miss Athletic Ticket Office so that Golden Eagle fans can sit together during the game at Tropicana Field," Giannini said.
Students will be able to purchase tickets immediately, one with their current University ID, and will be made available for pickup beginning Dec. 8.
Please note that all tickets are will call only and none will be mailed. General public ticket pickup begins Dec. 14.
For those wishing to pick up their tickets on game day, the will call at Tropicana field will open at 4 p.m. and be located at Gate 4. The stadium does not open until 6 p.m., that evening.