Southern Miss Friends of the Libraries Seeks Members
Mon, 11/22/2010 - 14:11pm | By: David Tisdale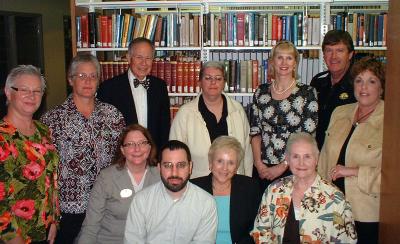 The Southern Miss Friends of the Libraries Board of Directors includes, standing, from left: Kaylene Behm; Lisa Jones; Dr. Aubrey Lucas; Allisa Beck; Dr. Carole Kiehl; Rev. Thomas Conway; Ellen Ruffin. Seated, from left: Tracy Englert; Dr. Eric Tribunella; Dr. Pat Joachim; and Dr. Jeannine Laughlin-Porter. Not pictured: Judge Deborah Gambrell Chambers (Photo by Teresa Loveless-Allen)
Patrons of University Libraries at The University of Southern Mississippi are encouraged to also become a friend.
Founded during the fall 2010 semester, The Southern Miss Friends of the Libraries is dedicated to building a successful future for University Libraries by strengthening and promoting its services, collections, facilities and activities. It will also plan programs and events of interest to the university and local communities.
A variety of membership plans are available, and the organization's board of directors is soliciting members for its standing committees for membership, public relations and activities. Anyone interested in becoming a Friend of the Libraries or volunteering to serve on a committee should contact a board member or call 601 266 4362 or 601.266.4241.