Southern Miss Gets Helping Hand with Security Cameras from Avigilon
Wed, 10/06/2010 - 08:40am | By: Van Arnold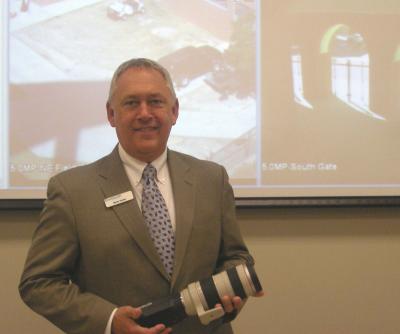 Dave Tynan, vice president, global sales and marketing for Avigilon, shows off one of the high-definition surveillance cameras his company installed recently at M.M. Roberts Stadium on the Southern Miss campus. (Photo by Van Arnold)
Bob Hopkins, chief of police at The University of Southern Mississippi, will readily accept all the help he can get when it comes to protecting the sprawling Hattiesburg, Miss., campus.
Thus, Hopkins and other security officials had ample reason to celebrate when surveillance technology leader Avigilon donated eight high-definition cameras to the National Center for Spectator Sports Safety and Security (NCS4) at Southern Miss. The new surveillance system was immediately put to use during the Southern Miss-Marshall football game on Oct. 2 at M.M. Roberts Stadium.
"It makes our job so much easier," said Hopkins. "It's like having extra eyes positioned throughout the stadium. And the best thing about this system is that it is so user-friendly. We are extremely fortunate to have technology such as this available to us."
Hopkins gave the new system an enthusiastic thumbs-up following the Golden Eagles' victory over Marshall, witnessed by a crowd of approximately 27,500 at Roberts Stadium.
"We used it on several occasions to view ongoing issues that were occurring during the game," he said. "We also had an opportunity to view history, to verify concerns that were given to us through the stadium text messaging system and to view officer/fan interaction while addressing complaints. It's an excellent system."
Dave Tynan, vice president, global sales and marketing at Avigilon, spent a couple of days on the Southern Miss campus prior to the Oct. 2 game, demonstrating the HD surveillance system's capabilities. He noted that the technology provides three important benefits:
Pre-emptive action. With cameras providing exceptional zoom capabilities and greater detail, suspicious behavior can be detected and handled quickly.
Investigative haste. Any actions or activity inside or outside the stadium can be processed in a matter of minutes, rather than hours.
Compliance verification. The HD component allows officials to monitor and evaluate stadium personnel to see that rules and regulations are being followed.
"With a system like this you can even read the logo on a person's shirt," said Tynan. "You can scan every face in the crowd and discern quickly whether there is a potential problem that requires attention."
Avigilon, a founding partner of NCS4, has invested approximately $250,000 to the center's mission with the HD cameras. Tynan said the payoff is invaluable.
"What we get in return is validation of our product's capabilities," he said. "By deploying a system of this nature in a setting such as this, it provides the perfect platform for showcasing its features to all kinds of security officials. In addition to building our brand, it also yields a basic stamp of approval for what we're striving to accomplish."