Southern Miss Gulf Coast News Briefs
Wed, 11/10/2010 - 15:38pm | By: Charmaine Williams Schmermund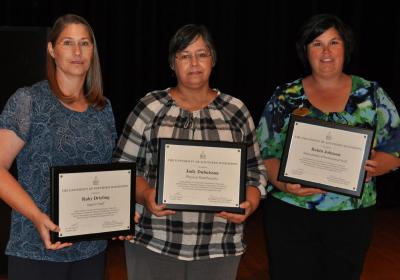 The University of Southern Mississippi Gulf Coast presented the 2010 Outstanding Staff Awards to three staff members for the integral role they play in providing support to the university on the Gulf Coast. The awards, presented on October 28, were given to (left to right) Ruby Drieling of the Business Office, who received the Support Staff Award; Judy Dubuisson of Campus Security, who received the Physical Plant/Security Award; and Robin Johnson of Student Services, who received the Administrative/Professional Staff Award. (Southern Miss University Communications photo by Charmaine Schmermund)
Southern Miss Gulf Coast Names 2010 Outstanding Staff Award Winners
LONG BEACH, Miss.– Three University of Southern Mississippi Gulf Coast staff members were presented the 2010 Outstanding Staff Award Oct. 28 for their work to support the university and its mission.
The awards were presented to Ruby Drieling of the Business Office, who received the Support Staff Award; Judy Dubuisson of Campus Security, who received the Physical Plant/Security Award; and Robin Johnson of Student Services, who received the Administrative/Professional Staff Award.
The seven-member selection committee chose the winners based on exceptional commitment to teamwork, a superior commitment to continuous quality improvement and for making contributions beyond those normally expected and required by job responsibilities.
For more information about the Southern Miss Gulf Coast Outstanding Staff Awards, call 228.865.4573.
Issues + Answers Lecture to Focus on Career Opportunities in Science, Technology
LONG BEACH, Miss. – The Sun Herald and The University of Southern Mississippi Gulf Coast College of Science and Technology present the lecture, "Career Opportunities in Science and Technology," with a panel of Southern Miss faculty Thursday, Nov. 18, at 7 p.m. in the Fleming Education Center auditorium at the Gulf Park Campus in Long Beach.
This distinguished panel of Southern Miss professors will share information about career opportunities in geography, biology, industrial engineering technology, molecular biology, mathematics and marine science. Within these varied industries, the panel will discuss careers in great demand, offering a lifetime of excitement, satisfaction and financial reward.
The lecture is free and open to the public. The Southern Miss Gulf Park campus is located on Highway 90 in Long Beach three miles west of Highway 49. For more information on this lecture or the Issues + Answers lecture series, please visit www.usm.edu/gc/lectureseries or call 228.865.4573.
Southern Miss Gulf Coast Autism Project Seeking Student Referrals
LONG BEACH, Miss.– The Autism Project at The University of Southern Mississippi Gulf Coast is seeking pre-school age children with autism, between the ages of three and five for placement in the project's Demonstration School classroom housed at Long Beach Middle School.
Serving as a demonstration facility for school personnel and caregivers, the mission of the Southern Miss Gulf Coast Autism Project is to design and implement appropriate school-based programs for students with autism who qualify for special education services in Mississippi.
Autism Project personnel, who provide services to select students with autism at the Demonstration School, perform various training activities at the school and throughout Mississippi.
To make a referral, call 228.863.1755 or e-mail autismFREEMississippi. For more information about the Autism Project at Southern Miss Gulf Coast, online visit www.usm.edu/gulfcoast/autism/.