Southern Miss Mens Athletics Wins Halbrook Award for 7th Straight Year
Wed, 10/20/2010 - 10:53am | By: Jack Duggan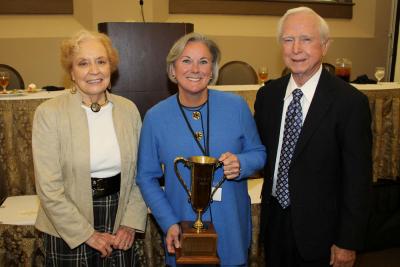 David and Rita Halbrook present Southern Miss President Dr. Martha Saunders (center) with the Halbrook Award at the recent Mississippi Association of Colleges Conference. (Submitted photo)
The University of Southern Mississippi men's athletics program recently accepted the Halbrook Award for having the highest graduation rate among Mississippi's public universities during the past academic year. It was the seventh consecutive time for the men's program to win the award and the eighth time overall.
The Halbrook Award recognizes colleges and universities that maintain and achieve high academic standards for student-athletes, thus encouraging high graduation rates. The awards were established by the State Legislature in 1995 and named for former State legislator David Halbrook, whose family also endows the award program.
"We are once again pleased and honored to have received the Halbrook Award for the best graduation rate among the universities in Mississippi for the seventh consecutive year," said Southern Miss Director of Athletics Richard Giannini. "The primary purpose for all our student-athletes is to make sure they get a great education and graduate on time. This award shows we are meeting our academic goals and have done so for a long time.
"Congratulations to our academic staff, our faculty who teach our coaches who demand excellence and most importantly our student- athletes, who have to study and do the work."
The award was one of several presented at Meridian's Riley Center during the 77th annual Mississippi Association of Colleges (MAC) Conference, where all of the state's higher education institutions, which included public and private, as well as four-year and two-year schools, are represented. Hosting the conference was East Central Community College.
As calculated by the MAC, the Golden Eagles' men's programs produced an 72 percent graduation rate in 2009-10 that was tops among the state's seven four-year public schools, which also include Alcorn State, Delta State, Jackson State, Mississippi Valley State, Mississippi State and Ole Miss.
Former Golden Eagles student-athletes, Paul Apyan (men's golf) and Ashley May (women's track and field), garnered the David M. Halbrook Award for Academic Achievement Among Athletes and were given to those student-athletes who excel in academics, leadership and community service.