Southern Miss Student Receives Coca-Cola Classic Rodeo Scholarship
Mon, 12/06/2010 - 09:49am | By: Van Arnold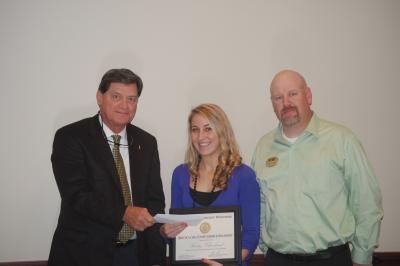 Brad Brian, left, vice president of the Mississippi Division for Coca-Cola Bottling Company United, presents the Coca-Cola Classic Rodeo Scholarship to Southern Miss student Kristy Cleveland during a luncheon on Thursday, Dec. 2. Also pictured is Mark Crager, associate director of Recreational Sports at Southern Miss. (Submitted photo)
Kristy Cleveland, a sophomore majoring in English Licensure at The University of Southern Mississippi, has been awarded the 2010 Coca-Cola Classic Rodeo Scholarship.
A Theodore, Ala., native, Cleveland owns a 3.9 grade point average and has worked in the Department of Recreational Sports at Southern Miss as a lifeguard and swim instructor since August 2009.
Requirements for the scholarship include enrollment at Southern Miss with a minimum 2.5 GPA and employment by Recreational Sports. Applicants are also required to submit a person statement and short essay. Top applicants are interviewed by the scholarship committee.
Cleveland is involved in a variety of student organizations at Southern Miss including Delta Gamma, Southern Miss Activities Council, and Concert Choir and Chamber Singers. Her academic achievements include membership in Alpha Delta Lambda honor society, Leadership Scholar and Leadership Ambassador. Cleveland also does volunteer work at Wesley Manor in Hattiesburg, serves as camp counselor at Camp Dixie in Elberta, Ala., and cooks meals for families at the Ronald McDonald House in Mobile, Ala.
Each February thousands of Hattiesburg area residents attend the Southern Miss Coca-Cola Classic Rodeo at the Forrest County Multi Purpose Center. Proceeds from the rodeo help fund student-staff development and scholarships.