Southern Miss Students Get First-Hand Look at Mississippi Gaming Industry
Mon, 12/06/2010 - 10:11am | By: Van Arnold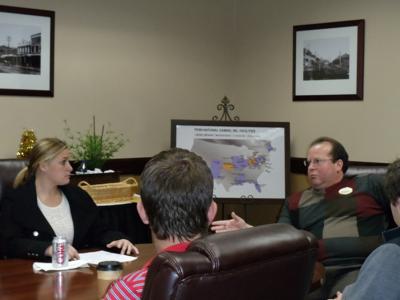 Tony Carlucci, vice president and general manager, Hollywood Casino Tunica, chats with Southern Miss senior Whitney Hammons about Penn National Gaming's Management Associate Program for new graduates. (Submitted photo)
Five University of Southern Mississippi business students got a personal glimpse of the ripple effect created by the multi-billion-dollar gaming industry during a two-day trip to Tunica, Miss., in late November.
Those attending the special visit included Casino, Hospitality & Tourism Management (CHTM) seniors Whitney Hammons of Long Beach, Miss.; Kristen Livingston of Ocean Springs, Miss.; Andrew Lohnes of Picayune, Miss.; Joe Burrage of Picayune, Miss.; and DeWanda Green of Waynesboro, Miss.
"Tunica is a great example of how gaming can have a positive impact on a community," said Green. "Whether that is with roads, housing or other facilities, one can take a page out of their book and see how a community can prosper."
Sponsored by the Tunica Convention and Visitors Bureau, the trip served as part of the CHTM's Industry Professionals Assistance in Students Success (iPASS™) program which advocates an academic-industry partnership approach to learning. The Gold Strike Casino Resort provided accommodations and numerous leaders of the gaming and tourism industries served as hosts.
After a welcome lunch with Mississippi Gaming Commissioner Nolen Canon, the students received a guided bus tour of Tunica by Lyn Arnold, president of the Tunica County Chamber of Commerce and Webster Franklin, president of Tunica's Convention & Visitors Bureau. Arnold provided a comprehensive account of Tunica's economic development efforts, while Franklin shared the history of gaming in Tunica. Franklin also pointed out the tangible benefits (such as the Tunica Recreation & Wellness Center and the Tunica River Park & Museum) from tax revenue generated by the gaming industry.
The students also learned about corporate cultures, industry trends, career opportunities and placement tips from senior executives from Caesars Entertainment, MGM Resorts International and Penn National Gaming.
"Being one of the largest employers in Mississippi, we are certainly interested in meeting and mentoring the future leaders of our industry here, and we look forward to a long and mutually beneficial relationship with the University of Southern Mississippi," said R. Scott Barber, regional president, Caesars Entertainment Mid-South Region.
Evelyn Green, an instructor in Casino, Hospitality & Tourism Management at Southern Miss, led the students' field trip and echoed Barber's sentiments.
"We hope this visit is the beginning of a strong relationship between Southern Miss and our gaming and tourism partners in Tunica and we plan to use online instructional technologies to narrow the physical distance between us," said Green.
For more information about the Department of Casino, Hospitality & Tourism Management at Southern Miss call 601.266.4659 or visit https://www.usm.edu/business/eco-dev-tourism-sport-management.