Suspected Gunman Arrested in Shooting of Southern Miss Students
Mon, 11/22/2010 - 11:16am | By: Van Arnold
One released from hospital; others listed in "good" condition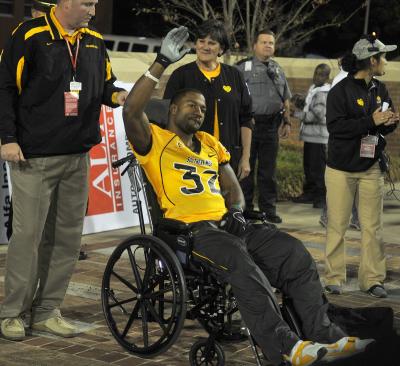 University of Southern Mississippi football player Martez Smith waves to the crowd at M.M. Roberts Stadium for Senior Night festivities on Saturday, Nov. 20. (Office of University Communications photo by Steve Rouse)
A highly coordinated manhunt ended Friday night with the apprehension of Travis "Taurus" Brown, who is suspected of shooting three University of Southern Mississippi students in the early morning hours of Nov. 14.
Brown, 29, was arrested without incident at a residence on Broad Street in Hattiesburg about 8:30 p.m. He is charged with three counts of aggravated assault in the shooting of Southern Miss football players Martez Smith, Tim Green and Deddrick Jones.
Brown was apprehended by the Hattiesburg Police Department, a Task Force of the U.S. Marshals Service and the Mississippi Bureau of Investigation. Mississippi Bureau of Investigation spokesman Jon Kalahar said two other people were also arrested at that time – Jamel Deshawn Black, 32, and Sharleisha Gabrielle Bolton, 23. Both have been charged with three counts of accessory after the fact.
Those arrests bring the total number of people charged in connected with the shootings to six. Last Monday night Patricia L. Brown, 49, and Cleothus Wilkerson, 25, both of Jefferson Davis County were arrested and charged with three counts of accessory after the fact. Police said Patricia Brown is Travis Brown's mother. On Wednesday night, Gulfport Police arrested Van Allen Myers, 23, of Prentiss. He has been charged with accessory to aggravated assault before the fact.
Travis Brown made his first court appearance today and bond was set at $3 million ($1 million for each count of aggravated assault).
Southern Miss head coach Larry Fedora announced at his weekly news conference today that Jones had been released from a local hospital. A hospital official said that Smith and Green had been upgraded to "good condition."
Hattiesburg Police spokesman Sgt. Allen Murray did not rule out the possibility of more arrests in the case. "We will still continue to search for individuals who helped in any way, shape, fashion or form before the fact," Murray told the Hattiesburg American.
Smith, a senior linebacker from Canton, Miss., made a surprise appearance at the Golden Eagles' final home game of the season Saturday night. Though paralyzed from the waist down as a result of his injury, Smith was able to join his teammates on Senior Night before a crowd of 32,606 at M.M. Roberts Stadium.
The three Southern Miss student-athletes, all majoring in interdisciplinary studies, were shot in the parking lot of Remington's Hunt Club in Hattiesburg following an altercation.
Southern Miss has created a fund through its athletic foundation to assist Smith, Jones and Green with expenses not covered by insurance. Donations can be made to the Southern Miss Athletic Foundation via check. The mailing address is Southern Miss Athletic Foundation, P.O. Box 15458, Hattiesburg, MS 39404.