Wiest Named Moorman Distinguished Alumni Professor in Humanities
Wed, 10/06/2010 - 14:56pm | By: Tearanny Street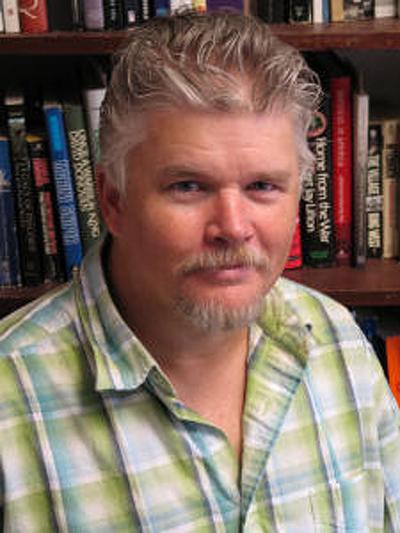 Dr. Andy Wiest is the eighth recipient of the Charles W. Moorman Distinguished Alumni Professorship in the Humanities. (Submitted photo)
Dr. Andrew Wiest, professor of history at The University of Southern Mississippi, has been named the Charles W. Moorman Distinguished Alumni Professor in the Humanities by the College of Arts and Letters.
The Professorship is named after Moorman, who was a renowned authority on the work of Geoffrey Chaucer and one of Wiest's former professors. It is awarded biennially for a two-year term to a senior professor in the departments of English, history, foreign languages, or philosophy. In addition to the award, recipients receive financial support for research in their field of study and must present a public lecture by the end of their term.
"It's an honor, especially considering who this professorship is named after," said Wiest, who specializes in the study of World War I and Vietnam.
"As an undergrad at Southern Miss, I heard how great Moorman's classes were and found him to be an exceptional teacher. It is also quite an honor to have my name associated with the wonderful scholars who have held this professorship in the past."
As the eighth recipient, Wiest joins the ranks of distinguished Southern Miss humanities faculty who previously held the professorship such as, Dr. Philip Kolin, Dr. Neil McMillen, Dr. William Scarborough, Dr. David Berry, Dr. Gary Stringer and Dr. Maureen Ryan. Moorman was a member of the English faculty from 1954-90 and served as chair of the department then later as vice-president of Academic Affairs for the university.
Wiest plans to use the funds provided by the professorship to attend conferences and complete his current research project which follows the men of Charlie Company, 4th Battalion, 47th Infantry during their tour in the Vietnam War.
Through oral histories and archival sources, Wiest's study investigates the lives of the members of Charlie Company before they were drafted, during their wartime service, and after they returned from Vietnam and reintegrated into American society. He also interviewed the wives and children of the veterans to understand the personal effects of the VietnamWar.
"These guys were all drafted on the same day in 1967. They trained together and served together. Unlike most other soldiers during that time, they go to know each other. They went to Vietnam as friends, brothers, comrades and those who came back remained friends, brothers and comrades."
Wiest has researched Charlie Company for the past 10 years and routinely has veterans come to speak to his class. "I want my students to understand war never ends for the soldiers and their families," he said. "Toward that end, I plan to have some of their families speak at my roundtable at the end of my term."