Youths, Young Adults with Disabilities Experience Special Camping Trip
Tue, 09/28/2010 - 11:21am | By: Van Arnold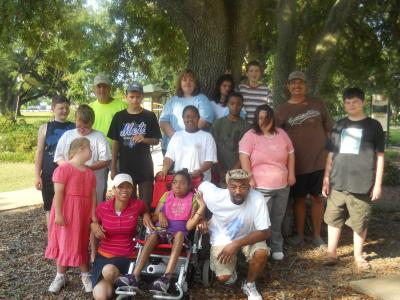 A group of young people with disabilities recently enjoyed an indoor "camping trip" hosted by Project TRIAD at The University of Southern Mississippi's Gulf Park campus in Long Beach. (Submitted photo)
Camping trips do not always include roaring fires or bug spray, as a group of youngsters and young adults discovered this summer at The University of Southern Mississippi's Gulf Park campus.
Fourteen young adults, ages 10-29, participated in an indoor "camping" trip hosted by Project TRIAD (Training, Resources and Information for the Advancement of Degrees), an initiative of the Institute for Disability Studies (IDS) at Southern Miss. TRIAD assists youth with disabilities who are transitioning from school to adult life.
"The camp was held to give young people with disabilities another opportunity to have some fun before school started back and to give their parents a little respite as well," said Dr. Jerry R. Alliston, TRIAD coordinator. "This initial camping trip is anticipated to become a yearly event and was certainly well received by the youth and young adults."
Due to the oppressive summertime heat, campers spent the night of Friday, July 29 inside the Technology Learning Center Recreation building on the Long Beach campus. On Saturday morning, the group participated in archery, ping pong, tennis and other activities, enjoyed a cookout, watched a movie and attended a local dance.
Alliston said that TRIAD's primary focus is on developing academic and leadership skills necessary for employment, self-determination, community engagement and leadership. But he noted that the project also places strong emphasis on recreation and social interaction, receiving guidance from its Youth and Emerging Leader Advisory Council composed of youths and young adults with and without disabilities.
The next Advisory Council meeting is scheduled for 5 p.m. Thursday, Oct. 21 at the IDS library in Bond Hall on the Hattiesburg campus. Those interested in attending should contact Terri "Cookie" Smith at 601.266.5163 or terri.smithFREEMississippi.
TRIAD is a three-year project funded through the Administration on Developmental Disabilities and complements the long-standing history of the Institute for Disability Studies to provide quality services for all people with disabilities. For more information about TRIAD and other IDS projects, call 601.266.5163 or 1.888.671.0051; or visit www.usm.edu/ids