Noetic Technologies, Southern Miss Share Leadership Award
Thu, 01/13/2011 - 09:32am | By: Van Arnold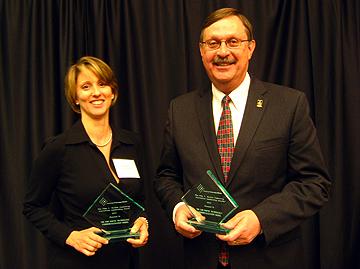 Kelli Booth, left, vice president of marketing for Noetic Technologies and Dr. Dennis Wiesenburg, vice president of research at The University of Southern Mississippi, accepted the John I. Rucker Award at the Conference on High Technology. (Submitted photo)
Noetic Technologies Inc., and The University of Southern Mississippi were recently awarded the John I. Rucker Community Innovation Leadership Award at the 11th Annual Conference on High Technology hosted by the Mississippi Technology Alliance.
The Rucker Award is given in recognition of leadership for organizations that represent a government, academic and private sector partnership. These organizations are recognized for the development of a strategic innovation-led economic development program focused on technology, research, entrepreneurship and capital formation.
Noetic and Southern Miss were honored based upon the unique model of a private company/academic institution technology transfer process.
"The Noetic/USM partnership continues to develop and promote a process that supports technology development and entrepreneurship that meets our customers' needs," said Les Goff, president and CEO of Noetic.
Noetic Technologies Inc., began as an initiative of The University of Southern Mississippi and is geared toward marketing and commercialization of the university's technology.