Southern Miss Baseball Team to Wear Buffett-Inspired Jerseys on April 15
Wed, 03/09/2011 - 14:52pm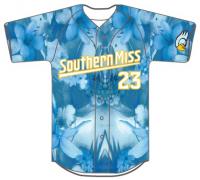 On Friday, April 15, the Southern Miss Alumni Association, in conjunction with the University's Athletic Department, will present "Parrothead Night at 'The Pete.'"
That evening, the Golden Eagles' baseball team will take the field at Pete Taylor Park in Jimmy Buffett-inspired jerseys in honor of one of the University's most famous alumni. The game will be the first of a three-game series against the University of New Orleans with the first pitch scheduled for 6 p.m.
Among the game's Buffett-related highlights will be Caribbean-themed jerseys, which the Golden Eagle players and coaches will wear during the game. The world-renowned entertainer and 1969 Southern Miss graduate has agreed to sign some of the jerseys, which the Alumni Association will subsequently auction online at SouthernMissAlumni.com.
Proceeds from the auction will benefit the baseball support organization, the Dugout Club, and a scholarship fund in the name of Buffett's mother, Peets. In each of the past two years, the Alumni Association has awarded multiple $5,000 Mary Loraine Peets Buffett Scholarships. Peets Buffett, a 1940 graduate of the Gulf Park College for Women, now the Southern Miss Gulf Park Campus, died in 2003.
"The Alumni Association is excited about the opportunity to partner with the Athletic Department to make this event a reality," said Jerry DeFatta, executive director of the Association. "Parrothead Night at 'The Pete' will be a great opportunity to honor one of our most distinguished graduates and generate much-needed funding in support of two worthwhile programs here at Southern Miss. We are grateful to Jimmy for his support of this effort."
Golden Eagle baseball coach Scott Berry says his team is eagerly anticipating the special night.
"It should prove to be a fun-filled night of baseball," Berry said. "We feel the commemorative jersey will honor Jimmy Buffett as a prominent Southern Miss alumnus."
For ticket information, visit SouthernMissTickets.com or call 1.800.844.TICK. For more information on the jersey auction, visit SouthernMissAlumni.com.