Southern Miss Develops Technology Used in NFL, College Football Helmets
Fri, 10/07/2011 - 09:18am | By: David Tisdale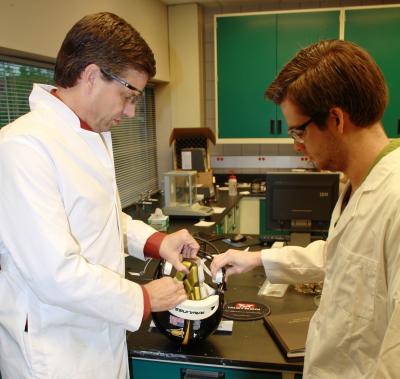 Southern Miss polymer science Professor Jeff Wiggins, left, helped develop a new padding to go inside football helmets produced by Rawlings. Southern Miss student Daniel Krebs, right, assisted in the project. (University Communications photo by David Tisdale).
A new helmet produced by the sporting goods company Rawlings – using technology developed in the laboratories of The University of Southern Mississippi School of Polymers and High Performance Materials – is designed to minimize the impact of collisions on the gridiron.
The Rawlings Neuro Responsive Gear (NRG) helmet includes dual protection inside the helmet combining a layer of foam reinforced by pneumatic cushioning made of pressurized "air bladders" that takes over and absorbs the energy from high-velocity contact, protecting the athlete.
"The technology in these new helmets is radically different than any other cushioning technology on the field today," said Southern Miss associate professor of polymer science Dr. Jeffrey Wiggins, who helped develop the special padding.
Today, approximately 40 professional and college teams are using the helmet, including running back Steven Jackson of the National Football League's St Louis Rams. "Athletes like the feel of the helmet, and Rawlings has high expectations," Wiggins said.
The top layer of foam is similar to the kind used in couches and lounge chairs. It is soft, low-energy, can handle minor dings and conforms to a broad range of head shapes and sizes. During a high-energy impact, this foam layer compresses against the pneumatic cushion system.
"In the event that a high velocity impact happens to occur, the secondary cushion system takes over and absorbs the impact," Wiggins said.
Another component of the design is the communicating air chamber in the helmet, wherein air is "communicated" to other areas of the helmet based on their potential for impact from a collision during a game or practice. "It acts like a pump, and we can tune the air pressure in various areas of the helmet based on where high impacts occur," he said.
Wiggins had the idea for the advanced cushioning when he approached Rawlings executives in August of 2008. At that point, Rawlings had not produced a football helmet in 20 years, and was only willing to if it could produce one that stood out from the competition.
"They didn't want a duplicate, a 'me, too' helmet. They wanted something that was substantially different in technology, something that would give it a 'wow' factor," Wiggins said. "Based upon our presentation, we did a research contract."
Wiggins and his research team then went to work with Rawlings product development engineers and in 18 months developed and refined the new technology to produce prototype cushion systems in helmets that could be evaluated and fully equipped to test.
"What we did was develop a cushioning system in-house at our laboratory, and then the helmet was tested at Rawlings' sport technology development center in St. Louis in the summer of 2009," Wiggins said. The tests measured impact and absorption capability.
"The first time it was tested, it outperformed the existing state-of-the art helmet on the market, and almost immediately we made the decision to go commercial (with the research)," he said.
Rawlings then began to ramp up production of the helmet, which became available in the spring, following more tests with athletes at various levels.
Wiggins said his research team used special polymeric fabrics in the design of the cushioning system that could be manufactured in a high production environment at a reasonable cost. The system is designed to maintain its air pressure indefinitely.
"An analogy might be blowing up a birthday balloon. After a few days, the pressure in the balloon goes down, and it starts to go flat, Wiggins said. "It's the same things in any type of an air bladder. But with these polymer bladders, that pressure is maintained over the lifetime of the products.
"It's another demonstration of how polymer science can, in many cases, bridge the gap between research and commercialization. In this case, hopefully, we will see over time the benefit with the reduction of injuries to youth, college and professional athletes who play football."
Steven Heinz, a Southern Miss alumnus from Oak Grove who is now an engineer with The Boeing Company in St. Louis, worked with Wiggins on the project as a graduate student. He will receive his doctorate in polymer science from the university this fall.
"When I started graduate school in 2006, Dr. Wiggins and I had already talked numerous times about an idea he had for a pneumatic cushioning system in sporting helmets," Heinz said. "Once Rawlings came aboard, we had the funding we needed to conduct trials and develop the system."
Heinz' role in the project included acquisition of materials and equipment, working with Rawlings product developers to determine size and shape of the parts, production of first articles, and testing performance. The team also produced the cushions used in the first prototype helmets before transitioning to production over to Rawlings' manufacturers.
"Being able to take an idea and turn it into a product that is sold on the market today was an invaluable experience, and seeing the helmet being worn by football players on Monday Night Football is surreal," Heinz said.
"It's those kinds of experiences that make our school of polymer science an excellent place to further your education and develop industrial relationships, while having a great time doing so."
Daniel Krebs of Hattiesburg, a Southern Miss senior majoring and in sports and high performance materials, began working with Wiggins' research team as a freshman to develop the helmet material.
After an initial meeting with Rawlinngs researchers and engineers, he spent the next two summers working with Wiggins and fellow Southern Miss researchers in the school's laboratories to develop the helmet's cushioning system, optimizing which materials worked best to develop the new technology.
Like Heinz, Krebs was fascinated watching the beginning of a product design and seeing it through to the end.
"To be involved in this as an undergraduate was huge. It's been one of the highlights of my research experience here at Southern Miss," Krebs said.