Accounting Professor Jackson Receives 2012 Excellence in Teaching Award
Mon, 12/10/2012 - 12:12pm | By: Charmaine Williams Schmermund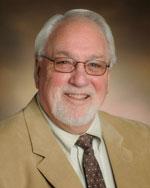 Dr. Steven Jackson
Dr. Steven Jackson has received the 2012 Joseph A. Greene Excellence in Teaching Award from the College of Business at The University of Southern Mississippi.
Jackson is associate professor in the School of Accountancy. He was a member of the Gulf Coast faculty from 1992-1996 and returned to his current position at the Gulf Park campus in Long Beach in 2007.
Department chairs within the College of Business nominate faculty members for this award each year. In nominating Jackson, Dr. Skip Hughes, director of the School of Accountancy, noted that Jackson taught 160 undergraduate students and 30 MBA students during the 2011 calendar year.
"No tenure track accounting faculty member has taught a greater number of different courses over an academic term, each course with its associated preparation nuances, than Steve Jackson," said Hughes.
Jackson's research interests are in accounting education and behavioral issues in ethics and auditing. He has published articles in such refereed journals as Journal of Accounting and Finance Research, Journal of Economic and Social Measurement and Journal of Accountancy.
Jackson served as the editor of the journal Advances in Accounting, Finance and Economics from 2007 to 2009. He is the co-author of Managerial Accounting: A Focus on Ethical Decision Making. He is also the co-author of the managerial accounting textbook, Managerial ACCT2, now in its second edition.