Biology Graduate Students Poster Recognized at Annual Entomology Meeting
Tue, 12/04/2012 - 10:34am | By: Tara Burcham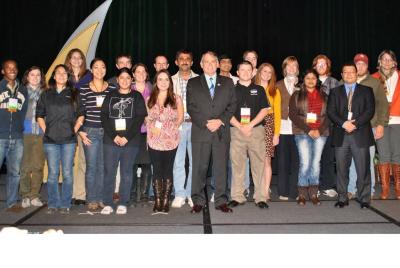 Nabanita Mukherjee,second from right on front row, poses with Entomological Society of America president, Grayson Brown, middle center, and other winners at the 2012 Entomological Society of America 2012 annual meeting.
Nabanita Mukherjee, a second year masters student at The University of Southern Mississippi, won a second place award for Best Poster in Medical, Urban, & Veterinary Entomology Section of the Entomological Society of America (ESA) 2012 annual meeting last month in Knoxville, Tenn.
Mukherjee's research topic is diversity of microbial communities identified in exotic ticks imported in the U.S. by migrating songbirds. Mukherjee, a native of Kolkata, India, works in the laboratory of Dr. Shahid Karim, associate professor of biological sciences at Southern Miss.
According to Karim, Mukherjee works in collaboration with several research groups, including Dr. Frank Moore in Biological Sciences. "Ms. Mukherjee analyzed the diverse microbial communities that were present in ticks collected by on songbirds that were migrating from Central and South America. This data included the identification of numerous Rickettsial strains, some of which are possible pathogens," said Karim.
At the ESA annual meeting, students present their research and compete for prizes. Mukherjee submitted her poster via an online submission system and was judged by ESA members, which are professors from a wide geographic area. Winners were announced at the conclusion of the annual meeting.