Cleveland Urges Southern Miss Graduates: Do Something You Love
Fri, 12/14/2012 - 16:51pm | By: David Tisdale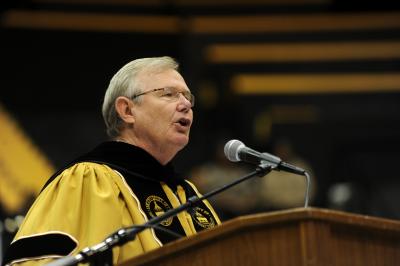 Longtime Mississippi sports writer/editor Rick Cleveland addresses Southern Miss graduates during Fall 2012 Commencement ceremonies on Friday, Dec. 14 at Reed Green Coliseum. (Photo by Danny Rawls)
It's been the sage advice of many, but when Rick Cleveland's father told him to follow his passion, he took it to heart.
Cleveland, executive director of the Mississippi Sports Hall of Fame and Museum and a longtime sports reporter and columnist, shared that simple message as he gave the commencement address Friday, Dec. 14 at his alma mater, The University of Southern Mississippi.
Though he could have pursued other careers that would have made him wealthier, Cleveland said his 40 years of covering the state's sports scene, as well as Super Bowls and other major events, brought him a happiness that can't be purchased.
"Above all else, do something that makes you happy and do it the best you can, and leave it better than you found it," he said.
Cleveland reflected on his days growing up in Hattiesburg and on the Southern Miss campus, where his father Ace Cleveland served as the university's sports information director and his mother, Carrie, worked in the bookstore.
Much has changed at the university Cleveland loves, including how its student body has become more diverse in the years following integration. "There was a time when it (Southern Miss) was lily-white. That was wrong. Now, it thrills me that USM is the most diverse university in Mississippi," he noted.
Cleveland also recounted how when he graduated from Southern Miss in the mid-1970s, his commencement was the first presided over by President Aubrey Lucas. He said he couldn't recall who his commencement speaker was, but remembers well when Lucas handed him his diploma.
"He (Lucas) is a gentleman and a scholar who has given so much to this university," Cleveland said in praising Lucas, who has served as interim president this year.
Another piece of advice from Cleveland's father came in handy, when, as he was suffering writer's block on a project in the eighth grade, the elder Cleveland suggested to his son that he "write it the way he would tell it."
Lucas said Cleveland did just that as a writer, earning him a loyal following of readers over the last several decades that enjoyed his stories and columns, including during his time at the Hattiesburg American and Clarion-Ledger newspapers.
"He's a great observer not just of sports, but of life," Lucas said of Cleveland.
Cleveland said he used a manual typewriter in his early days as a reporter, an instrument he notes could be found in a museum today. Acknowledging the advance of technology that has changed how we transmit messages, he urged the graduates not give up their pursuit of knowledge in order that they can adapt in an ever-changing world.
"Your education doesn't end today," he said. 'Your education jump-starts today. You must continue to learn to keep pace."
David Garcia of Waveland, Miss. shares Cleveland's love of what as of Friday became his alma mater. Garcia, who serves full-time in the Mississippi National Guard, graduated Friday with a degree in history and a minor in English.
Garcia said his best memories from his time at Southern Miss include making new friends, the mentoring of professors and participating in its study-abroad programs, including travels to Vietnam and Jamaica.
"Southern Miss gave me a greater understanding and appreciation for all that the world has to offer, and I'll definitely carry my experiences from here with me no matter where my path takes me," he said.