Doctoral Student Only Mississippian Selected to Present at Symposium
Wed, 11/07/2012 - 02:23pm | By: Tara Burcham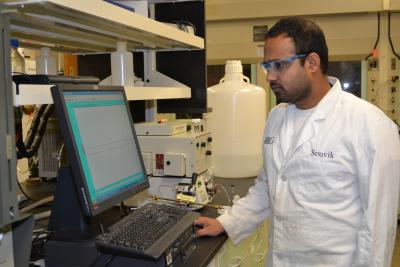 Southern Miss doctoral student Souvik Banerjee works in the lab of Professor Doug Masterson. (Photo by Tara Burcham)
Souvik Banerjee, doctoral student in the Department of Chemistry and Biochemistry at The University of Southern Mississippi was selected to present at the American Chemical Society's Division of Organic Chemistry Graduate Research Symposium on the campus of University of Colorado, Boulder.
Banerjee was selected as one of the 50 awardees nationally to present his research in poster format, and was the only researcher from the state of Mississippi. He is a student of Dr. Douglas Masterson, Associate Professor and Associate Chair in the department, and a member of the Masterson Research Group.
Banerjee's presentation was entitled "Consise Synthesis of Diverse Alpha-Methyl Lysine and Proline Analogues from a Common Synthon."
According to ACS, the competition was extremely strong making Banerjee's selection an excellent accomplishment. Masterson says Souvik is "among the most productive graduate students at USM and being selected for this prestigious opportunity is well deserved."
The symposium is sponsored by national sponsors including ACS Publications, Dow, Pfizer, Merck, Genentech, and many others.
For more information about the Department of Chemistry and Biochemistry, visit www.usm.edu/chemistry-biochemistry.