Obesity Rates on the Decline Among Elementary Aged Students in Mississippi
Fri, 08/24/2012 - 08:43am | By: Layla Essary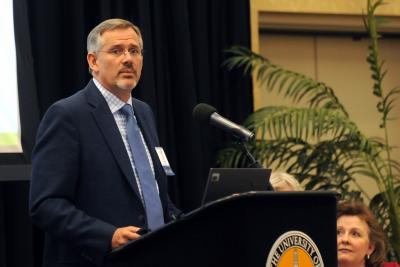 Southern Miss Professor Dr. Jerome Kolbo discusses obesity rates during the Mississippi Health Summit held in June on the Hattiesburg campus. (Photo by Kelly Dunn)
Six years ago, Mississippi schools were given a mandate to provide healthy living initiatives to thousands of students statewide. And now, a recent study shows that message may be getting through to the state's youngest students.
Since 2003, Dr. Jerome Kolbo, with the University of Southern Mississippi's College of Health, and a team of researchers have looked at obesity rates among students in Mississippi. For the first time ever, obesity rates are declining for elementary-aged students.
"As far as I'm aware, Mississippi is the only state reporting statistically significant declines among weighted sample of children across the state," said Kolbo, who shared the findings with more than 200 health care leaders at this year's Mississippi Health Summit at the University of Southern Mississippi. Many credit schools for playing a huge a part in improving the lives of students.
"There's a big transformation in the school environment as it relates to improving health and we think that's probably having an impact on obesity rates," said Therese Hanna, executive director of the Center for Health Policy. "We know that Mississippi has the highest rate of obesity among children, and once Dr. Kolbo started using school nurses and not self-reported data, it was even higher than we thought. So we were very concerned because we know that lots of health problems are associated with obesity."
Hanna said that was one of the objectives of the Mississippi Healthy Students Act, passed in 2007. "It's one of the most comprehensive in the nation. It covers physical education and nutrition improvements," said Hanna. "That made Dr. Kolbo's study so important because we now had a baseline to study over time to see if there were any changes. "
"The Mississippi Department of Education has been implementing a number of health nutrition and physical education programs across the state and in doing that, it's at the same time we're collecting this obesity data. It looks very promising that the things that are happening in the schools are having an impact on students," said Kolbo.
The study looked at more than 1,400 students from Kindergarten through the 12th grade. And while the news seems encouraging, leaders in the health community believe there is much more work to be done.
"The study shows that we've made progress but we have a long way to go," said Dr. Michael Forster, dean of the College of Health at Southern Miss. "We have to get the message out to the community in the broader sense. We have to do a better job educating parents and promoting good health practices. By finding out what's going well and celebrating these successes we must also examine where we have deficiencies."
As this 10-year research project reaches its conclusion, Kolbo is hopeful that lifestyle improvements will begin to show up statistically for people of all ages across the state.