Researchers Look at Ways to Provide Portable Energy with Organic Solar Cells
Thu, 08/16/2012 - 09:17am | By: Layla Essary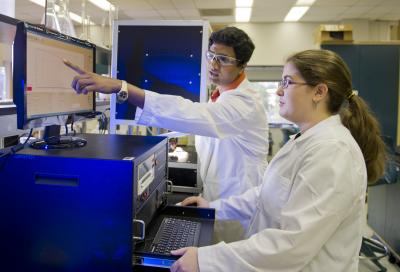 Dr. Mithun Bhattacharya, left, a post doctoral fellow at The University of Southern Mississippi, is conducting solar cells research with undergraduate student Kelly McLeod. (Photo by Danny Rawls)
While most of us can't imagine life without a laptop or smart phone, powering up these high tech devices on-the-go can be a challenge.
Researchers at the University of Southern Mississippi's School of Polymers and High Performance Materials are working to develop a portable energy source using light from the sun to produce organic solar cells.
Dr. Sarah E. Morgan, associate professor of polymer science in the School of Polymers and High Performance Materials, is one of four faculty members overseeing research to improve the performance of organic materials that can generate electrical power using solar radiation.
"What we're trying to do with solar energy is turn light from the sun into electricity that we can harvest and use for many of our daily needs," said Morgan. "But the challenge is that the current solar cell technology is not very efficient. We're working on approaches to try to make them more efficient."
Morgan is collaborating on the project with Dr. Gordon C. Cannon, Dr. and Sabine Heinhorst, professors in the university's Department of Chemistry and Biochemistry, and Dr. James W. Rawlins, associate professor of polymer science. The U.S. Department of Energy has provided advanced instrumentation, such a solar simulator, to test the lab cells, along with an atomic force microscope, to examine the cell on the nano scale.
"Here in this lab, we're making lighter-weight, easier-to-manufacture organic solar cells, using polymeric materials, which are easier to process," said Morgan. "Since they are lighter and more portable, we can put them on flexible kinds of substrates, not the stiff solar panels we're all used to seeing. They could be placed on the side of a tent while camping, for example. Some of these organic solar cells are already out there commercially, but they are not very efficient."
The research project engages different facets of science, employing both graduate students and undergraduates. Kelly McLeod is set to graduate next year from the University of Southern Mississippi and said the organic solar cell project has inspired her to attend graduate school in this field.
"I was already interested in the science, but I've enjoyed having the chance to go to the lab and tangibly work with these cells and see what I am doing," said McLeod. "It is hard work, but I know that eventually we will get it right and it will be used by industry and that's exciting to me."
McLeod has also enjoyed the opportunity to work alongside graduate students who provide mentoring along the way.
"With this technology, I can have the solar cells printed on something like this lab coat I am wearing," said Dr. Mithun Bhattacharya, post-doctoral fellow. "Then it will allow me to power my smart phone and other devices. A person in the defense can go to a far off place and power up items needed for military intelligence. The idea is that you can carry your power source with you."
And as the research continues here on campus, Morgan believes the big picture is providing more opportunity for the students who graduate from the program.
"It is extremely exciting for all of us, because we all want to do something for the environment and the future," she said. "Mississippi has been effective in attracting solar companies to the region, and opportunities for our graduates. And in a power hungry world, these researchers hope they can harness rays from above to generate electricity here on earth in brand new ways."
For more information about the Southern Miss School of Polymers and High Performance Materials, call 601.266.4868 or visit: http://www.usm.edu/polymer