SACS Commission Approves Southern Miss Fifth Year Interim Report
Tue, 12/18/2012 - 16:59pm | By: David Tisdale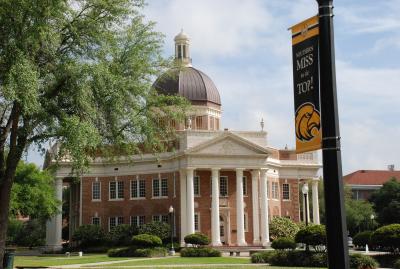 The University of Southern Mississippi has a primary campus in Hattiesburg, Miss. and a Gulf Park campus in Long Beach, Miss. (University Communications photo)
The Southern Association of Colleges and Schools Commission on Colleges (SACSCOC), during its annual meeting in Dallas Dec. 8-11, informed The University of Southern Mississippi of its approval of the institution's Fifth-Year Interim Report.
SACSCOC is one of five regional accrediting organizations that have regularly conducted a comprehensive review of member institutions every 10 years. The Fifth-Year Interim Report was recently implemented to meet U.S. Department of Education requirements that accrediting agencies monitor institutions more often to ensure those having access to federal funds continue to meet accreditation standards.
Southern Miss is in compliance with the multiple accreditation standards covered in the report, including institutional effectiveness regarding educational programs; program curriculum; policy compliance; Title IX program responsibilities/financial aid audits; student support services; and physical facilities, among others.
"SACS accreditation is like the Good Housekeeping Seal of Approval for colleges and universities in the South," said Southern Miss Interim President Dr. Aubrey Lucas, who attended the meeting. "This is a very reassuring action from the association. I credit the hard work of our faculty, staff and committees and administrators in helping us achieve this good status in terms of preparing our Fifth-Year report as it should be and answering any questions."
With more than 800 members, SACSCOC is the regional accreditation body for degree-granting higher education institutions in the South. Its membership includes institutions from Alabama, Florida, Georgia, Kentucky, Louisiana, Mississippi, North Carolina, South Carolina, Tennessee, Texas, Virginia and Latin America and other international sites approved by the Commission on Colleges to award associate, baccalaureate, master's, or doctoral degrees.
"I join Dr. Lucas in thanking the faculty and staff for their efforts in generating this successful report," said Associate Provost for Assessment and Accreditation Dr. William Powell. "We're committed to meeting SACSCOC standards, which support our own goals for student success and the continuous improvement of academic endeavors at USM."
For more information about SACCSCOC and its accreditation policies, online visit http://www.sacscoc.org.