Southern Miss Announces Todd Monken as 20th Head Football Coach
Tue, 12/11/2012 - 18:12pm | By: Jack Duggan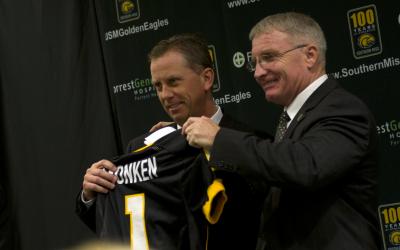 Southern Miss Director of Athletics Jeff Hammond, right, introduces Todd Monken as the new head football coach during a news conference on Tuesday, Dec. 11 on the Hattiesburg campus. (Photo by Kelly Dunn)
Southern Miss Director of Athletics Jeff Hammond announced on Tuesday, Dec. 11 the hiring of Todd Monken as the school's 20th football coach. The hiring is pending approval by the IHL Board of Trustees.
Monken comes to Southern Miss after serving the last two seasons as offensive coordinator and quarterbacks coach at Oklahoma State. It was his second stint at OSU, after serving as pass game coordinator and wide receivers coach there from 2002-04.
"We said going into this search that we wanted to find a dynamic leader with the character to lead our program back to prominence, so," said Hammond. "I believe today, with the hiring of Todd Monken, we have accomplished that. With his extensive background at some of the premier programs in college football and in the NFL, we believe he is perfectly positioned to return the Golden Eagles to competing both in Conference USA and in the national spotlight."
Under Monken this season, the Cowboys – which had a true freshman starting quarterback to start the season and a redshirt freshman as the primary backup - ranked among the nation's top 10 nationally in scoring offense (4th/44.7 ppg), total offense (5th/548.9 ypg) and passing offense (7th/333.4 ypg). OSU will play in the Heart of Dallas Bowl on Jan. 1.
In the last two seasons, OSU has scored more than 50 points 10 times, broke the 60-point mark in five contests, the 70-point mark twice and the 80-point plateau once in just two years with Monken calling the plays.
The Cowboys also during that span set single-season records for points scored, touchdowns scored, first downs, pass attempts, pass completions, passing yards, completion percentage, touchdown passes, yards per play and third-down conversions in 2011, in addition to posting six of the top seven single-game passing marks in school history.
In 2011, Monken served as Brandon Weeden's position coach, who set single-season school records for passes completed, passes attempted, passing yards, touchdown passes, completion percentage and total offense in 2011. Weeden, who now plays for the Cleveland Browns, also set single-game school records for passing yards and total offense under Monken's watch in 2011. On the national level, Weeden finished the 2011 season second in passing yards, third in total offense, fourth in touchdown passes and ninth in pass efficiency.
Monken's offense produced the 2011 Biletnikoff Award winner in Justin Blackmon in addition to a pair of All-Americans in Blackmon and offensive lineman Levy Adcock and the Big 12 Offensive Lineman of the Year, Grant Garner.
Prior to returning to OSU for his second time, Monken spent four years as wide receivers coach for the Jacksonville Jaguars of the National Football League. He had been promoted to the role of Jaguars' quarterback coach immediately before taking the offensive coordinator job at Oklahoma State. In his final year in Jacksonville, the Jaguar trio of Mike Thomas, Marcedes Lewis and Mike Sims-Walker combined to make 167 catches for 2,082 yards and 21 touchdowns with Lewis earning a spot in the Pro Bowl.
Monken also worked at LSU from 2005-06, where he developed several receivers including Skyler Green, Dwayne Bowe and Buster Davis. Bowe and Davis were selected in the first round of the 2007 NFL Draft. Bowe combined with Davis and Early Doucet to form one of the nation's premier receiving corps in 2006. The trio combined for 180 receptions, 2,598 yards and 24 TDs. Bowe finished his career with 154 catches for 2,403 yards, and his school-record 26 touchdowns ranked eighth in SEC history.
In his first stay at OSU, Monken spent three seasons (2002-04) as pass game coordinator/wide receivers coach. The Cowboys averaged more than 32 points per game during that time. In 2004, Monken tutored first-round pick Rashaun Woods, who was selected 31st overall by the San Francisco 49ers. Woods was a two-time All-America honoree and concluded his career with 293 receptions for 4,414 yards and 42 touchdowns.
He also helped engineer one of the nation's best passing attacks in his two seasons (2000-01) at Louisiana Tech – one year as the running backs coach and the other as wide receivers coach. In 2001, Louisiana Tech ranked eighth in the nation in passing, averaging 313 yards through the air per game. A year earlier, Tech ranked seventh in the nation averaging 313 yards passing per game.
In addition, Monken spent seven seasons at Eastern Michigan (1993-99) including the last two as offensive coordinator and quarterbacks coach. He also spent time at Grand Valley State (1989-90) and Notre Dame (1991-92).
A native of Wheaton, Ill., Monken was a three-year letterwinner at quarterback for Knox College. He earned a bachelor's degree in economics (1989) and followed with a master's degree in education leadership from Grand Valley State. He is a member of the Knox College Athletic Hall of Fame. Monken and his wife, Terri, have one son, Travis.