Southern Miss Bristol Gives Presentation on Book in Charlotte, N.C.
Wed, 04/25/2012 - 11:55am | By: Charmaine Williams Schmermund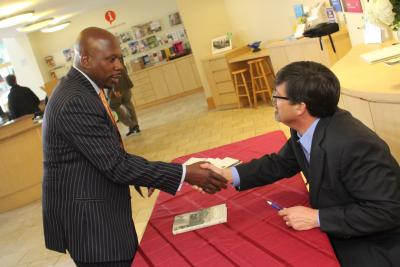 Dr. Douglas Bristol, associate professor of history at The University of Southern Mississippi Gulf Coast, recently received a special invitation from Damian and Jermaine Johnson, owners of the No Grease chain of barber shops in Charlotte, N.C., to give a talk and sign copies of his book, Knights of the Razor: Black Barbers in Slavery and Freedom.
The book talk and signing was held at the Levine Museum of the New South to coincide with its current exhibit on prominent black barber, Thad Tate. Bristol's book, recently published by The Johns Hopkins University Press, is the only scholarly work to examine the forgotten chapter in the history of black barbers when they served white rather than black customers.
"Damian and Jermaine Johnson gave their seal of approval to my book by seeing their considerable success as the product of the tradition I wrote about in Knights of the Razor," said Bristol. "My audience in Charlotte was very interested in entrepreneurship. Because of the endorsement from the Johnson brothers, they will use my history of black barbers to help them understand the contributions that black-owned businesses can make to the African-American community."
The Johnson brothers, who are prominent activists and entrepreneurs in the African American community, also made their own presentation in which they noted how their careers as barbers in the 21st century had many parallels to black barbers in the 18th and 19th centuries.
For more information on Southern Miss Gulf Coast, visit www.usm.edu/gulfcoast