Southern Miss Researchers Publish Important Findings in Alzheimers Disease
Fri, 09/14/2012 - 09:25am | By: Layla Essary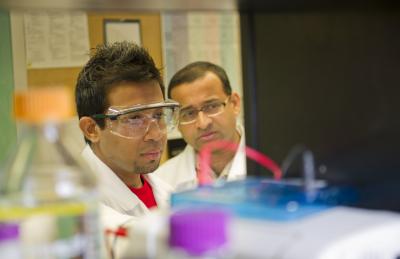 Southern Miss graduate student Ahmit Kumar, foreground, is working on Alzheimer's research in the lab of Southern Miss Professor Vijay Rangachari. (Photo by Danny Rawls)
Like all scientific processes, biochemical research in the lab of University of Southern Mississippi Professor Dr. Vijay Rangachari begins with a theory. And there is no shortage of theories when it comes to Alzheimer's disease research.
"People are making different theories but they're still not sure what actually causes Alzheimer's," said Ahmit Kumar, a fifth-year graduate student at Southern Miss and a member of Rangachari's research team. "Theories about what causes, what doesn't are all around and this is the part we're focusing on because this may be the actual reason of the Alzheimer's toxicity."
Alzheimer's is caused by the formation of large protein deposits that destroy neurons in the brain. This summer, Kumar's research led to an interesting discovery, which shows not only how these toxic agents form, but how they seem to undergo a snowball effect.
"It's not just that they've examined what toxic agent exist, but the fact that they replicate to infect other neurons in the brain and that aspect has not been observed before then," said Rangachari.
Kumar's research findings have been recently published in the Journal of Biological Chemistry, which reaches a global audience.
"The significance of this paper is that it opens the doors to looking at the disease in a very different perspective," said Rangachari.
Alzheimer's disease is a progressive brain disorder characterized by acute memory loss and difficulty performing day-to-day tasks. It affects mostly elderly people over the age of 60. The number of people impacted by the disease is staggering – it is estimated that approximately 5.4 million Americans are affected by the disease.
And while the ultimate objective may be years down the road, Kumar's mission is clear. "Maybe we can get a cure for Alzheimer's disease one day," he said.