Southern Miss to Restore MBA Program on Hattiesburg Campus
Thu, 12/13/2012 - 10:15am | By: Van Arnold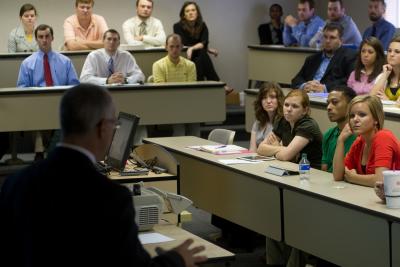 Southern Miss accounting students listen to a lecture during a fall semester class on the Hattiesburg campus. (Photo by Kelly Dunn)
The University of Southern Mississippi plans to restore its masters of business administration program on the Hattiesburg campus for the fall 2013 semester.
The program was shifted from the Hattiesburg campus to the Gulf Coast-only format in fall 2011 as part of budget cuts within the Southern Miss College of Business in 2010.
Dr. Joseph Peyrefitte, interim dean of the College of Business, said that the restored Hattiesburg program will be offered in a part-time format with classes meeting at night in a traditional face-to-face setting. The program will take two years to complete because all of the courses will not be offered every year – instead available on a two-year rotation. Students wishing to complete the program in one year will be required to take some classes in Hattiesburg and some on the Coast.
"We are looking forward to reopening the MBA program as it demonstrates our commitment to serving the needs of the Hattiesburg and southern Mississippi communities," said Peyrefitte. "Our program is the only AACSB-accredited MBA program offered in the traditional format in the state south of Jackson. Our accreditation ensures students and parents that our business school provides a high-quality program."
The College of Business' Executive Committee (comprised of department chairs and deans) voted to reopen the MBA program in Hattiesburg, noting that there are two distinct MBA markets in Hattiesburg and Long Beach.
The Gulf Coast program will continue in its hybrid format – which features one week of online classes and one week of face-to-face instruction during the semester.
The MBA curriculum includes eight required and three elective courses for a total of 33 semester hours. With summer or fall admission, a full-time student may complete the MBA degree in one year; a part-time student can complete it in two years. Peyrefitte said the plan is to restore the Hattiesburg program to full-time status eventually.