Southern Miss Teacher Education Receives Continued Accreditation
Fri, 12/14/2012 - 15:19pm | By: David Tisdale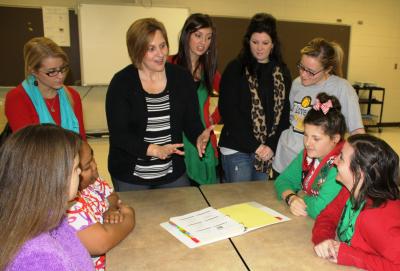 Jennifer Osborn, center, an assistant professor in the Southern Miss College of Education and Psychology's Department of Curriculum, Instruction and Special Education, reviews a lesson plan in her classroom management class for elementary education majors. Teacher education programs at the university recently received continued accreditation from the National Commission for Accreditation of Teacher Education. (University Communications photo by David Tisdale)
The National Commission for Accreditation of Teacher Education (NCATE) has awarded The University of Southern Mississippi continued accreditation, affirming its teacher education programs meet the organization's rigorous standards for excellence.
NCATE's stated dual mission is accountability and improvement in education preparation. It holds accredited institutions accountable for meeting its criteria and encourages unaccredited schools to demonstrate the quality of their programs by working for and achieving professional accreditation. Southern Miss has been continually accredited by NCATE since 1954, the first year NCATE was established.
"Southern Miss is known for our outstanding teacher education programs," said Southern Miss Provost Dr. Denis Wiesenburg. "We're delighted our programs and professional education faculty are again recognized by NCATE for the quality students they produce."
The notification letter from NCATE to Southern Miss awards continued accreditation at the "initial teacher preparation and advanced preparation levels." It further states: "This accreditation decision indicates that the unit and its programs meet rigorous standards set forth by the professional education community."
Dr. Ann Blackwell, dean of the Southern Miss College of Education and Psychology, said NCATE accreditation is a reflection of invaluable input and support from local school district partners, the Mississippi Department of Education, and Southern Miss administrators, faculty, staff and students.
"NCATE accreditation means our professional education programs meet the highest state and national standards for academic excellence," Blackwell said. "It offers documentation that professional education students at Southern Miss have the necessary knowledge, skills, and dispositions to have a positive impact on students and to increase student learning outcomes."
Dr. David Daves, chairman of the Department of Curriculum, Instruction and Special Education, said the award of continued accreditation "speaks to the quality of our programs and dedication of our faculty to make it happen."
"It also lets those considering enrolling or are currently enrolled in our teacher education programs know that high standards are being met, and that they can compete in the job market," he said.
Dr. Tom Clark, director of the Gulf Coast Education Initiative Consortium (GCEIC), said NCATE accreditation affirms what his organization's 25 member districts already know about Southern Miss' professional teacher education programs.
"Most of the young teachers employed by our districts were trained through the excellent educational preparation program at USM, who graduate ready to take on the task of educating our children," Clark said. "School districts all over our state benefit from the quality teacher education programs at USM."
NCATE-accredited schools prepare teacher candidates for initial licensing and advanced board certification. The organization works with the Interstate New Teachers Assessment and Support Consortium and the National Board for Professional Teaching Standards to ensure teacher education accreditation standards, model teacher licensing standards, and advanced teacher certification standards are compatible.
Jennifer Osborne, a new member of the CISE faculty, has served on NCATE committees at other universities and is "impressed with the planning and faculty involvement in working to meet NCATE standards" in her department.
"I feel al lot of pride knowing we are meeting national standards," Osborne said. "We work really hard to follow NCATE guidelines."
Some states have reciprocity agreements based on graduation from NCATE-accredited schools, so graduates of NCATE-accredited schools will generally find it easier to apply for licensure when they move out of state.
Audra Russell, a senior elementary education major from Madison, Miss. said Southern Miss has prepared her well for a career in education. She is set to begin student teaching and will graduate in the spring, and is looking forward to a rewarding career in her chosen profession.
"My experience at Southern Miss has been great," she said. "Because of the program and faculty here, I'm ready and confident to succeed as a teacher."
For information about teacher education programs at Southern Miss, online visit www.usm.edu/cise. For information about all programs in the College of Education and Psychology, online visit http://www.usm.edu/education-psychology.