SPGE Reunion Brings Former Students Back to Southern Miss
Tue, 07/24/2012 - 16:38pm | By: David Tisdale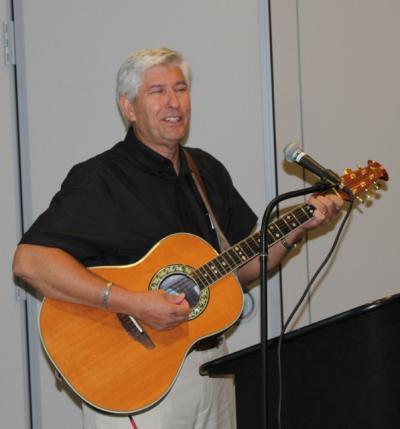 A reunion of participants in The University of Southern Mississippi's former Summer Program in Graduate Education (SPGE) on the Hattiesburg campus last weekend reunited old friends, fellow students and colleagues. The three-day program included an opening reception, Saturday recognition luncheon and Sunday brunch.
The SPGE spanned more than 30 years and brought students from across the U.S. and around the world to Southern Miss for a wide variety of graduate programs, with some that could be completed in just two summer semesters.
Dr. Paul Peddicord, the program's founder, returned for the reunion to visit with former students and recount the program's many success stories. "It's been great to see everyone again," Peddicord said. "I believe it was an outstanding program and it feels good to have been a part of it."
Although the program was recently discontinued, it still holds a special place in the hearts for those who count themselves as SPGE alums.
Jack Bazinsky of Jacksonville, Fla. was a student in the SPGE in the late 1980s and early 1990s, working on a graduate degree in college student personnel and then later on a doctorate. A key organizer of the reunion, Bazinsky praised the program for "doing the kind of thing a university should do."
"It exceeded expectations," Bazinsky said. "It brought in people from every state and continent, enabling them to meet their goals and potential."
Several former students cited the low cost and convenience of earning a graduate degree during the shorter summer semesters as the greatest appeals of the program. But many also grew extremely fond of Hattiesburg and the region, prompting their return for additional study or just to visit.
Christine French traveled from Queensland, Australia for graduate school at Southern Miss through SPGE, and came away with more than a doctorate in education administration. During summers in Hattiesburg, she connected with the music of famous Mississippi and Southern artists Jimmy Rodgers, B.B. King, Charlie Pride and Percy Sledge. Some of the artists she enjoyed hearing performed in concerts on campus.
"I fell in love with the music, culture and literature of Mississippi and the South," French said.
Southern Miss Interim President Dr. Aubrey Lucas, who addressed the group at their luncheon Saturday, said the many teachers who came to the university through SPGE during their summer breaks to work on advanced degrees made an impact just by their presence in the classroom.
"The program attracted outstanding individuals from all over the U.S. and other countries, who brought with them an interest and diligence that set a good example for all of our graduate students," he said.