Students, Faculty, Staff Honored During Annual Founders Day Ceremony
Tue, 04/03/2012 - 09:34am | By: David Tisdale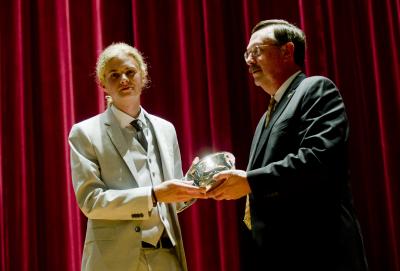 Senior Samuel Miller, left, is presented the Phi Kappa Phi Award by Vice President of Research Dr. Denis Wiesenburg during Founders' Day activities. (Photo by Danny Rawls)
The achievements of The University of Southern Mississippi's students, faculty and staff were recognized Friday, March 30 during its Founders' Day celebration, as the institution marked the 102nd anniversary of its establishment by the Mississippi Legislature. The ceremony was held at Bennett Auditorium and followed by a reception at the Student Activities Hub.
Top honorees included Honors College student Samuel Miller, a senior geography and anthropology major from Sumrall, Miss. who received the Phi Kappa Phi Silver Bowl Award for maintaining a perfect grade point average; and Bridgette Pace, a senior nursing major from Clarksdale, Miss., who received the Judge R.J. Bishop Mississippian Award.
The Bishop Award is given annually to a student who is a native Mississippian displaying an exemplary work ethic and determination to succeed, while also overcoming personal obstacles. It was established in 1978 by Elna Bishop in memory of her father, Judge R.J. Bishop, and includes a stipend.
"It's a great honor, and I've had a great experience here at Southern Miss," Miller said. "The faculty in geography and anthropology are very supportive of me, and they make learning fun."
Pace also expressed gratitude for the support of her professors in the School of Nursing. "I couldn't have come this far without them," she said.
Dr. James Meade, a professor in the department of art and design who has served with its faculty since 1971, was inducted into the university's prestigious Centennial Legacy Circle. The circle was established during the university's 2010 Centennial Celebration to recognize current and former members of its faculty and staff who have given 40 or more years of service to Southern Miss. University employees marking their 30th, 20th and 10th year with the university were also recognized.
Newly elected members of the Student Government Association executive cabinet were sworn in on Founders' Day. They included President Jazmyne Elizabeth Butler, a junior broadcast journalism major from Vicksburg, Miss.; Vice President Allie Rebecca Solomon, a junior Spanish major and geography minor from Pittsburgh, Pa.; Attorney General Donald Holmes II, a junior English major and black studies minor from Osyka, Miss.; Election Commissioner Jordan Elizabeth West, a psychology major from Navarre, Fla.; and Treasurer Davontae Washington, a senior business management major from Hattiesburg.
Other student awards and honors included the following:
2012 Outstanding Freshmen: Blake Houston, Wilton Jackson, Sam Newman, Alloric Riley, Mason Seidenburg, Nicolet Hooper, Erin McLeod, Lindsey Pellittieri, Hannah Roberts, and Kiffani Zackery.
Most Outstanding Freshman Female: Bridget Ashley Page
Most Outstanding Freshman Male: Gavin Snyder
Best Male Citizen: Garrett Wright
Best Female Citizen: Kimberly Gaddis
Student Hall of Fame: John Barr; Erick Brown; Tierra Clemmons; Marie Holowach Ferderer; Stephanie Gwin; Zachary Knight; Lauren LeBlanc; Rebecca Masters; Lacey Masters; Ashley Marie Villarreal.
Leave it Better Than You Found It Award: Alesha Knox
Barbara Ross Gold Leaf Scholarship: Mary Lois Hanna
Other faculty and staff recognized for their achievements at Founders' Day include the following:
Staff Excellence Awards (including categories):Victor Watkins and Mamie Beckum, service maintenance; Linda Jordan and Delores McNair; office personnel; Heather Brown, professional; Pam Posey, Jesse H. Morrison Award; Gary Kimble and Jeff may, 2011-2012 Staff Council Service Award.
Higher Education Appreciation Day – Working for Academic Excellence:Andrew Wiest, department of history
Faculty Excellence Awards (including categories):Ellen Weinauer, English, Excellence in Teaching; Stacy Reischman Fletcher, Theatre and Dance, Excellence in Service; Jennifer Brannock, University Libraries, Excellence in Librarianship.
2012 IHL Black History Educator of the Year Award:Kim LeDuff, school of mass communication and journalism
Southern Miss Nominees for National Endowment for Humanities Awards
David Cochran, department of geography and geology, and Andrew Haley, department of history
Aubrey Lucas and Ella Lucas Endowment for Faculty Excellence Awards
Lynn Boardman, speech and hearing; Jay Dean, music; Jiu Ding, mathematics; Brian Gerity, human performance and recreation; Alen Hajnal, psychology; Maryann Kyle, music; Kelly Ferris Lester, theatre and dance; Jennifer Regan, biological sciences; Virginia Sumrall, school of nursing.
Summer Grants for Improvement of Instruction: John Bishop, curriculum, instruction, and special education; Jeff Bowersox, history; Barry Cumbie, management and international business; Jiu Ding, mathematics; Geoffrey Hudson, school of human performance and recreation; Jennifer Regan, biological sciences; Gallayanee Yaoyuneyong, fashion merchandising.
University Research Awards (including categories):(student) Emily Cohen, doctoral candidate in biological sciences, Graduate Student Award; (faculty, staff) Carol Connell, nutrition and food programs, Applied Research Award; Jay Dean, music, Lifetime Achievement Award; Stan Kuczaj, psychology, Basic Research Award; Andrew Wiest, Creative Activities Award; Jeffery Wiggins, polymer science, Academic Partnership Award; Connie Wyldmon, retired from sponsored programs administration, Research Advocate Award.