Universitys Marine Mammal Research Program Attracts Global Audience
Thu, 08/02/2012 - 13:00pm | By: Layla Essary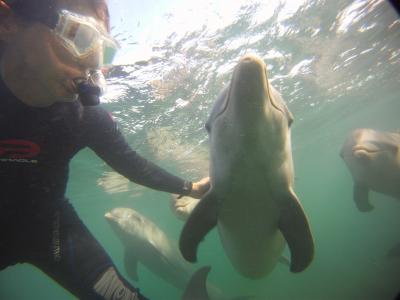 Dolphin research has become an integral part of the research being done at The University of Southern Mississippi's Marine Mammal Behavior and Cognition Lab. (Submitted photo)
While the Gulf Coast draws crowds this time of year for summer recreation, University of Southern Mississippi graduate student Christina Perazio takes to the coastal waters of Mississippi for scientific pursuits that center primarily on the study of dolphins.
"We spend a lot of time in the Mississippi Sound, in fact we go six times a month," said Perazio, who says the work is motivated by one primary quality of the dolphin. "No doubt — it's their intelligence. I've always heard how intelligent they are. I enjoy every minute of researching them."
Along with identifying more than 1,400 individual dolphins in recent years, the University's Marine Mammal Behavior and Cognition Lab sorts out the residency patterns and habitat use of the Mississippi Sound.
Director Dr. Stan Kuczaj oversees the study of marine mammals such as bottlenose dolphins, whales, and other animals such as walruses and hippopotamuses. But Kuczaj says dolphins are the driving force behind a program that is growing in popularity, attracting applicants world-wide.
"People do tend to love dolphins so there's lots of interest in this program," said Kuczaj. "When we started the marine mammal program in 1996 we had a few participants, but now we have many more applicants than we can admit. They come from all over the world, from Columbia, Portugal to cities across the U.S. We also provide internships for undergraduate students, so they can learn about Mississippi and the research that we do."
The program's study area is defined along Mississippi's coast, including the state's barrier islands, from Horn Island to Cat Island. Students also get to study dolphins in captivity in locations across the world, from Honduras to California and Florida.
"The study of captive animals is very important because we can get more information dolphin behavior and dolphin cognition in controlled settings," added Kuczaj.
The research has catapulted Kuczaj into a position of authority on the subject of dolphin behavior — sought after for television documentaries and research projects world-wide. "We have great students and we've had a lot of things published and been a part of a lot of national documentaries," he said. "That's gotten the name of the university and the lab out there."
While research has led to a number of discoveries, there's much to be learned regarding the interaction between humans and dolphins in the wild.
"A lot of what we do affects their behavior; it can affect them in a negative way or following the shrimp boats and getting a free handout," said Kuczaj. "It's a mixed bag. Humans aren't going away and we're seeing many of the dolphins are having interaction with humans. Mostly those interactions are positive, but we worry that people will do things that aren't necessarily good for the dolphins. "
Kuczaj believes the more people learn about these creatures of the sea, the more mankind can connect the world of humans and dolphins, including simple behaviors such as family relationships and the art of play.
"As they get better at doing something, such as catching a ball, they make it more difficult for themselves," he said. "It is a lot like what human kids do, which we find fascinating."
And for students like Perazio, the fascination with dolphins just keeps growing. "There is this idea that we're just swimming with the dolphins, but there's a lot of work involved," she said. "Along with the water, there's lots of research going on back at the lab on campus. It's a scientific process."
For more information about The University of Southern Mississippi Marine Mammal Behavior and Cognition Lab, call 601.266.4179 or visit: http://www.usm.edu/psy-kuczaj/