Wiesenburg Named Provost at University of Southern Mississippi
Tue, 04/10/2012 - 10:19am | By: Van Arnold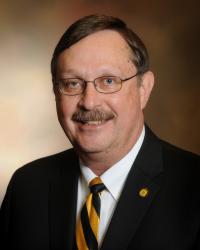 Dr. Denis Wiesenburg
University of Southern Mississippi President Martha D. Saunders announced today that Vice President for Research Dr. Denis Wiesenburg has been named as the university's next provost, pending approval by the Mississippi Board of Trustees of State Institutions of Higher Learning. The change is effective July 1.
Wiesenburg, who has served as the university's vice president for research since 2010, also became interim provost last November when Dr. Bob Lyman tendered his resignation. Saunders said Wiesenburg will be charged with reorganizing the Office of the Provost to include the research function, thus centralizing the leadership for both academic affairs and research in one office.
Saunders said vesting authority for academic and research programs in one office assures a strong linkage between teaching and research, the preponderance of activities undertaken by the University faculty.
"I have tremendous confidence in Dr. Wiesenburg's ability to provide academic and research leadership to foster excellence in teaching, research and service," Saunders said. "He is a quintessential scholar with myriad accomplishments to his credit. He has built a reputation on solid values and integrity."
Before joining Southern Miss as vice president for research in June 2010, Wiesenburg served as the dean of the School of Fisheries and Ocean Sciences at the University of Alaska Fairbanks. From 1994 to 2004, he served Southern Miss at the Stennis Space Center as director of the Center for Marine Science, associate director for the Institute of Marine Science and as chair of the Department of Marine Science.
"I am honored to continue my service to Southern Miss as provost and look forward to establishing a stronger relationship with our faculty while also seeking beneficial funding opportunities for our research endeavors," said Wiesenburg.
In the role of provost, Wiesenburg will work as the chief academic officer and the senior university officer next to the president. The provost operates as the president's principal adviser in all matters pertaining to the development of a well-conceived and organized curriculum, administered and taught by a faculty of the highest qualifications.
"During the time he has served as interim provost he has demonstrated a strong commitment to academic programs across all campuses and to all Southern Miss faculty," said Dr. Timothy Rehner, director of the School of Social Work and Faculty Senate president at Southern Miss. "Dr Wiesenburg has earned the support of faculty in a very short period of time. It is also clear to me that he is committed to the success of the University of Southern Mississippi."
Wiesenburg will also oversee planning for the university's educational programs and works with the vice presidents and deans in accomplishing the university's educational objectives. He will oversee budget development by the colleges and monitors these budgets throughout the academic year.
"I believe that President Saunders has made an excellent decision in naming Dr. Wiesenburg as the provost," said Dr. Lance Nail, dean of the College of Business at Southern Miss. "He brings much-needed experience and expertise to the job from both an academic and research perspective. I have found him to be fair, deliberate, and strategic in his decisions as the interim provost. I fully expect the academic units on campus to advance under his leadership and with his high standards."
A Pascagoula, Miss., native, Wiesenburg earned his undergraduate degree from Duke University in 1970. He obtained his master's degree from Old Dominion University in 1975, followed by his doctorate from Texas A&M University in 1980. He was an Associate Research Scientist (1988-1994) at Texas A&M University and worked as an oceanographer for the U.S. Navy (1981-1988) at the John C. Stennis Space Center in Mississippi.