Alumnus Named Director of The Pride of Mississippi
Thu, 05/02/2013 - 10:36am | By: Mike Lopinto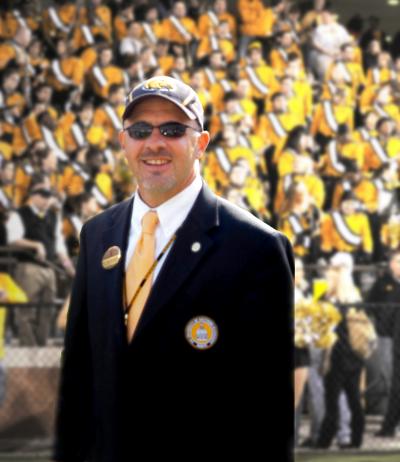 Dr. Jamie Standland has been named director of The Pride of Mississippi at Southern Miss.
The University of Southern Mississippi School of Music has named Dr. Jamie Standland, assistant director of bands for the School, as director of the The Pride of Mississippi Marching Band heading into the 2013 season.
"I am humbled and honored with this enormous responsibility," said Standland. "I look forward to continuing the tradition of excellence that the fine directors have established over the years."
During his undergraduate years, Standland marched in The Pride and continued as a graduate student with the band program. After a successful teaching career in Florida, Standland returned to his alma mater and again became a regular figure on the podium.
For the past six years, Standland has been director or assistant director with the organization. Most recently, he assisted Dr. Mohamad Schuman, associate director of bands, during his tenure with The Pride. Schuman now moves to the purely concert side of band and will share his years of public school expertise working with music education students more directly.
"I'm confident that Dr. Standland will work to continue to build the relationships necessary to recruit locally, and throughout the state and southeast," said Dr. Catherine Rand, director of bands at Southern Miss.
Dr. Standland taught middle school and high school bands in Florida for 17 years and holds B.M.E., M.M.E., and D.M.A. degrees from Southern Miss, where he studied conducting with Dr. Thomas V. Fraschillo and Dr. Steven R. Moser. Standland's bands have excelled in marching and concert festivals and competitions.
In 1999, Dr. Standland was inducted into the prestigious American School Band Directors Association. Other professional affiliations include the National Band Association, where he served on the Marching Band Activities Committee, and the Florida Bandmasters Association. He is in demand as a concert, marching, and solo and ensemble adjudicator throughout the U.S.
His bands have been invited to perform at the inaugural parade of Florida Governor Jeb Bush and the New Years Day Parade in London, England. Since 2005, he has regularly traveled to Italy and assisted with a camp for young Italian musicians in Sicily.
In 2006, Standland was the Director of The Pride of Mississippi Marching Band. During that year The Pride was extended an invitation to perform during an NFL football game in Green Bay, Wis. where the Green Bay Packers played the St. Louis Rams. Standland negotiated the trip, resulting in the Packers chartering the flight for the band to Green Bay.
Standland lives in Hattiesburg with his wife, Carol Weatherford-Standland and their three children, Drew, Tyler, and Laura Lee.