Annual All-South Band Features More Than 250 Young Musicians
Mon, 02/04/2013 - 10:06am | By: Mike Lopinto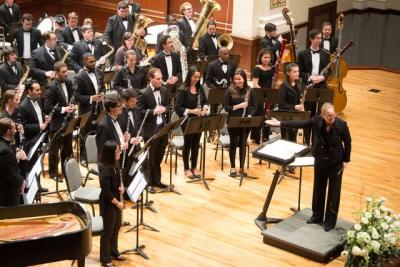 The Wind Ensemble represents part of the All-South Honor Band experience at Southern Miss. (Submitted photo)
Each year during February, high school students from throughout the southeastern United States convene on The University of Southern Mississippi campus to enjoy an inspiring, music-filled weekend.
The Southern Miss School of Music will host more than 250 students Feb. 7 - 10 during the All-South Honor Band weekend. For many talented students, simply taking part in their own school's band program is not enough. All-South provides the perfect environment for high school students who crave more knowledge and opportunities to play.
Organized by Dr. Catherine Rand, director of bands at Southern Miss, the clinic boasts students from Mississippi, Alabama, Louisiana, Georgia, Florida, Texas and Virginia. Concerts by numerous School of Music ensembles highlight the weekend that culminates in performances by the students of All-South.
The concert series starts on Thursday, Feb. 7 and extends throughout the weekend. The PRISM Concert takes place at 7:30 p.m. on Feb. 7 in the Thad Cochran Center Ballroom.
"A PRISM concert is a large-scale production that features numerous ensembles, large and small, who alternate in performance," said Dr. James Standland, assistant director of bands at Southern Miss.
Large ensembles rotate on stage and several small ensembles stationed around the ballroom. Tickets to this event can be purchased through University Bands.
The Symphonic Winds perform at 7:30 p.m. on Friday, Feb. 8 under the direction of Dr. Mohamad Schuman. The Wind Ensemble performs at 7:30 p.m. on Saturday, Feb. 9 under the direction of Dr. Catherine Rand and features Dr. John Wooten on tympani. On Sunday, Feb. 10th the concert series concludes at 1 p.m. with the All-South Honor Bands. All events take place in Bennett Auditorium
"It was the absolute highlight of my band career. It pushed me each year to practice harder and work more because it showed me exactly what I was up against," said Andrew Shira, sophomore music performance student. "In my own state, just as I'm sure it is for many students, I was at the top in pretty much every band event I took place in. But at All-South, I was competing against students from seven or eight other states, which was a big challenge."
Apart from rehearsing with one of the three concert bands and giving their final performance, the students who participate in this year's All-South Honor Band weekend will have the opportunity to hear many guest performances and work one-on-one with School of Music faculty.
"All-South, without a doubt, was a big part of my decision to come to the University of Southern Mississippi," Shira said. "Hearing the amazingly talented concert ensembles, meeting the friendly and helpful students, and being introduced to the world-renowned faculty, along with strolling around the beautiful campus, simply sealed the deal."
For tickets to the PRISM concert, please contact University Bands at 601.266.4990. All other concert events are free and open to the public.