Bill McGillis Named Director of Athletics at Southern Miss
Thu, 07/18/2013 - 01:34pm | By: Jim Coll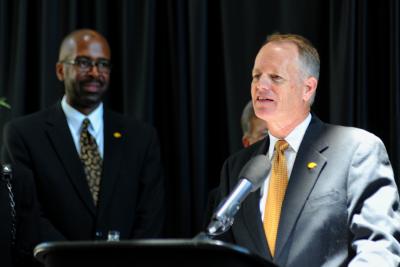 Bill McGillis addresses a crowd of Southern Miss supporters after being named the university's new Director of Athletics on Thursday, July 18. Looking on is Southern Miss President Dr. Rodney Bennett. (Photo by Kelly Dunn)
University of Southern Mississippi President Rodney Bennett announced today (July 18) that Bill McGillis would become the university's next athletics director.
Bennett made the announcement at a gathering of hundreds of Southern Miss students, alumni, employees and fans at the university's Trent Lott Center. McGillis replaces Jeff Hammond, whose contract expired on June 30. Deputy Athletics Director Jeremy McClain is serving as interim athletics director.
"Bill McGillis is a seasoned and experienced athletic administrator who has a proven record of helping student-athletes accomplish their academic and athletic goals," said Bennett. "He has built winning programs that compete at the highest levels, and has the ability to develop strong relationships with stakeholders. I have no doubt that Bill is the right person to best build on our tradition of athletics excellence and position us for future success."
McGillis comes to The University of Southern Mississippi from the University of South Florida, where he serves as Executive Associate Athletic Director. In that role, he is the sport administrator for the football, baseball and softball programs and is responsible for leading the department's revenue-generating units, including marketing, ticket sales, licensing, merchandising and communications. McGillis' official start date has not yet been determined.
"It is an honor, privilege and an opportunity that I will not take for granted to serve as the athletics director at this great university," said McGillis. "I've known about Southern Miss for a long time and the great tradition that has been established here."
Throughout his tenure at USF, which began in 2007, the university enjoyed extraordinary increases in tickets sales and other revenue streams. In 2007, football ticket sales nearly doubled from approximately 30,000 per game in 2006 to more than 53,000 per contest. Beginning in 2009, USF began a $69 million facelift of its Athletics District, constructing six new venues, including new baseball and softball stadiums, soccer stadium and track stadium. Construction was completed over a 24-month period, and, based on the number of venues built at one time, is believed to be the single largest athletics project undertaken at a Division 1 institution in decades.
"Congratulations to President Rodney Bennett, The University of Southern Mississippi family and all the Golden Eagles," said USF Director of Intercollegiate Athletics Doug Woolard. "You have just added one of the most talented athletic administrators in America to your team. Bill's experience, value system, work ethic, integrity and total understanding of the landscape of college athletics are remarkable. Bill McGillis is highly respected in our profession and I want to congratulate him and his family."
McGillis brings to Southern Miss more than 25 years of administrative experience in intercollegiate athletics. Prior to his tenure at South Florida, he served as Director of Athletics at the University of Evansville from 2002 to 2007. At Evansville, McGillis initiated improvements to the university's basketball, administrative and weight room facilities, and increased scholarship support and funding. The Purple Aces baseball program achieved unprecedented success, winning the Missouri Valley Conference Championship for the first time. McGillis also spent nearly four years as the Senior Associate Athletic Director at the University of New Mexico, and 13 years at the University of Houston in a similar role.
Prior to announcing McGillis, Bennett thanked an interview committee of alumnus Chuck Scianna, Student Government President Ann Marie Chilcutt, faculty member and dean of the College of Arts and Letters Steve Moser, and Executive Assistant to the President for External Affairs Chad Driskell, as well as the search firm of Eastman and Beaudine, Inc., for their role in the selection process.
McGillis earned his Bachelor of Arts degree in sports administration from St. Thomas University (Fla.) and graduated from the Sports Management Institute Program in 1996. He and his wife Margie, both natives of Seattle, have five children—sons Jordan, Taylor and Will, and daughters Marissa and Gabrielle.