Former Secretary of Defense, CIA Director Robert M. Gates to Speak at Southern Miss
Mon, 11/18/2013 - 10:04am | By: Van Arnold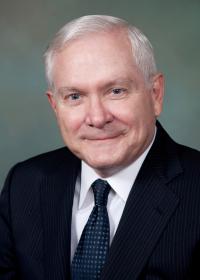 Dr. Robert Gates
Dr. Robert M. Gates, who previously served as U.S. Secretary of Defense and Director of the Central Intelligence Agency, will be the guest speaker for The University of Southern Mississippi's Lt. Col. John H. Dale Sr. Distinguished Lecture Series in International Security and Global Policy on Thursday, Feb. 6 at the Saenger Theatre in downtown Hattiesburg.
The lecture series, a program of the Southern Miss Center for the Study of War & Society (CSW&S), was created to inform and expand the global awareness of the Southern Miss community and the citizens of the Gulf South region. The lecture, set to begin at 7 p.m., is free and open to the public.
"The Dale Lecture Series is a superb example of Southern Miss's dedication to providing the lessons in leadership that our students need to successfully meet today's global challenges," said series coordinator Dr. Susannah J. Ural, co-director of the CSW&S and the Blount Professor of Military History at Southern Miss.
A former president of Texas A&M University, Gates currently serves as chancellor of the College of William & Mary. He has also been elected future president of the Boy Scouts of America. Gates, a Kansas native, received his bachelor's degree from the College of William & Mary, his master's degree in history from Indiana University and his doctorate in Russian and Soviet history from Georgetown University.
Gates served as the 22nd Secretary of Defense from 2006-2011 under Presidents George W. Bush and Barack Obama. Prior to that appointment, he served nearly 27 years in the CIA and the National Security Council. On Gates' last day in office, President Barack Obama awarded him the Presidential Medal of Freedom – the country's highest civilian honor.
"Robert Gates' vast knowledge and recognized ability to inspire audiences to critically consider their place in an ever-changing world makes him an ideal speaker for our lecture series," said Ural.
The Dale Lecture Series is funded through the generosity of Southern Miss alumna Dr. Beverly Dale in honor of her father's service as Professor of Military Science, Head of the Department of Military Science and Head of the ROTC Program at USM from 1957-61 and 1964-66. Lt. Col. Dale was a veteran of World War II and the Korean Conflict.
"In about 2006 or 2007 I was looking for something at USM I could support to honor my father," said Beverly Dale. "During the process of trying to decide what to do, I met General (Buford) "Buff" Blount, a distinguished serviceman and very inspirational fellow. In discussions with him I came to see that essentially he and I share the same vision of understanding better when one goes to war what the aftermath is going to be and how it can be handled more effectively."
"Robert Gates seems a perfect fit for the lecture series," added Dale. "He really is viewed as a very distinguished statesman rather than a politician. He has served his country well. Gates was a man of the troops and cared about the troops and their lives, which I think is also the sign of a great administrator."
The lecture series is organized by the faculty of the CSW&S in cooperation with Dr. Beverly Dale, as well as Major Gen. Blount (U.S. Army, Ret.), another CSW&S key supporter.
For more information about the Dale Lecture Series, contact Ural at 601.266.5004 or susannah.uralFREEMississippi