Former Southern Miss Football Coach Underwood Passes Away at Age 81
Mon, 02/04/2013 - 11:57am | By: Jack Duggan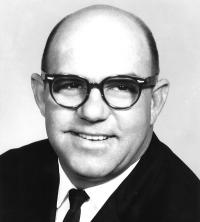 P.W. Underwood
Former University of Southern Mississippi football coach P.W. Underwood passed away early Monday (Feb. 4) morning at the age of 81.
Visitation will be held from 5-8 p.m. on Thursday, Feb. 7 at Hulett-Winstead Funeral Home, 205 Bay St. in Hattiesburg. The Funeral Service is set for 10 a.m. on Friday, Feb. 8 at Kensington Woods Church of Christ, 415 S. 40th Ave. in
Hattiesburg.
Underwood, who earned the nickname Bear, made as large an impact on the football tradition of Southern Miss as anyone in history and he did it in three distinct roles. First, as a talented and respected tackle and guard for the school in the mid-fifties, later as an assistant coach and architect of some of the greatest defenses in school history and later as head coach of the school, as it made its biggest push to move into the upper echelon of college football.
"I believe that I can speak for most if not all former USM Football Student-Athletes who played for Coach Underwood," said Southern Miss Director of Athletics Jeff Hammond, who was recruited and played for Underwood. "He gave each of us our start on life which began the day we arrived to USM. He brought us to USM (via an Athletic Scholarship) to teach more than just football; he taught character and the moral courage to always do the right thing.
"He was a mentor, father-figure, friend, and most important a man we loved, and trusted. He loved USM and his sons, Phil and George, were everything in the world to him. We will never forget this man who for so many was larger than life. It was the honor of a lifetime to have known him."
Underwood began his career at Southern Miss in 1954 and saw considerable playing time on a team that finished 6-4. Underwood played well enough on that team to earn several starting assignments even as a sophomore.
The 1955 season saw him solidly entrenched in the starting lineup at guard and was one of the leaders on a squad that went 9-1, as the team won its final seven games of the season. He had begun to develop a reputation as one of the hardest hitting and physical players in the country. No one loved the contact more than Underwood.
In 1956, Underwood moved to tackle and teamed with fellow M-Club Hall of Famer Don Owens, giving the Southerners one of the biggest and best tackle combos in the history of the school. The 1956 team went on to finish 7-2-1 and Underwood helped led the team to a berth against West Texas State in the Tangerine Bowl.
After his stardom with Southern Miss, Underwood went on to play two seasons with the Hamilton Tiger-Cats of the Canadian Football League. Even though injuries limited his CFL career to just two seasons, he earned a spot on the league's Fabulous 1950s team.
He spent the 1963 through 1966 seasons as an assistant coach at his alma mater. As line coach for Coach Pie Vann, Southern Miss ranked No. 1 in the country in total defense three of his four seasons and allowed just 131.2 yards per game during the 1963 campaign.
After a short stint as an assistant at Tennessee, he returned to become head coach at Southern Miss in 1969. During his six seasons he posted a 31-32-2 record and engineered one of the biggest wins in school history, a 30-14 win over fourth-ranked Ole Miss in 1970. Late last year, Golden Eagle fans voted this game as the No. 1 greatest contest in the first 100 years of Southern Miss football.
After an outstanding high school career in Cordova, Ala., Underwood joined the military before he could move on to begin his college career.
He joined the United States Army where he spent a couple of years serving with the military police, but also playing football. He played on the strong Fort Jackson (South Carolina) Golden Arrow team during his military stint, a team that included numerous ex-college all-stars and Underwood distinguished himself as a defensive giant and a powerful blocker.
Following his military service, Underwoodenrolled at Mississippi State, but stayed only one season in Starkville. But based on his play in the Army, Underwood was selected by the Chicago Bears in the 1954 NFL draft but opted to instead transfer to what was then known as Mississippi Southern.
Underwood holds the distinction of being one of 21 former Golden Eagle athletes to be inducted into the charter class of the Southern Miss M-Club Hall of Fame on Feb. 20, 1965, and he is also a member of the Mississippi Sports Hall of Fame in which he was inducted in 1986.
Underwood, was married to the late former Vera "Deedy" Sellers, and survived by his two sons, Phil and George.