Hammond to Become Special Assistant to the President for Military and Veterans Student Affairs at Southern Miss
Wed, 07/24/2013 - 11:29am | By: Jim Coll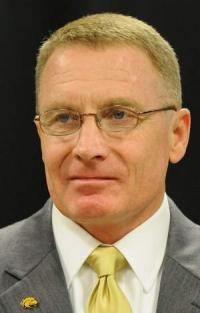 Gen. Jeff Hammond
University of Southern Mississippi President Rodney Bennett announced today that Gen. Jeff Hammond has accepted a position at the university as Special Assistant to the President for Military and Veterans Student Affairs. Hammond, a Southern Miss alumnus and retired two-star Army general, will begin work in his new role on Aug. 1.
Hammond returned to work at his alma mater in 2010 as senior associate athletics director and most recently served as athletics director for one year, a term that ended on June 30.
"I look forward to continuing to work with Gen. Hammond in this new capacity," Bennett said. "I share Gen. Hammond's passion for our country and for the men and women who dedicate their lives in service to our country. We anticipate that this work will create additional pathways to completion for students who serve in the military, their dependent family members, and veterans."
Hammond's primary tasks in this new role include:
Working to secure additional federal and private dollars to support veterans and their dependent family members pursuing a Southern Miss degrees;
Serving as a Southern Miss liaison to Camp Shelby and Keesler Air Force Base;
Along with the University Provost, exploring ways to best facilitate the transfer of academic credits and similar academic training completed in conjunction with military service;
Taking a lead role in the development of a veterans student service center on the Hattiesburg campus;
Assisting the University president with additional military and veterans initiatives as they arise.
"I am excited about the opportunity to continue serving Southern Miss and in particular those whose sacrifices ensure our many freedoms," Hammond said.
Approximately 1,000 students currently receive military-related benefits that assist them in pursuit of degrees at Southern Miss.
"I believe with an intentional focus on veterans and military affairs, we have an opportunity to not only enroll a greater number of veterans and their dependent family members, but to enhance services to them while providing a better University of Southern Mississippi experience," Bennett said.