H.C. "Bill" McLellan, Former Southern Miss Athletics Director, Dies at age 81
Mon, 09/30/2013 - 06:52pm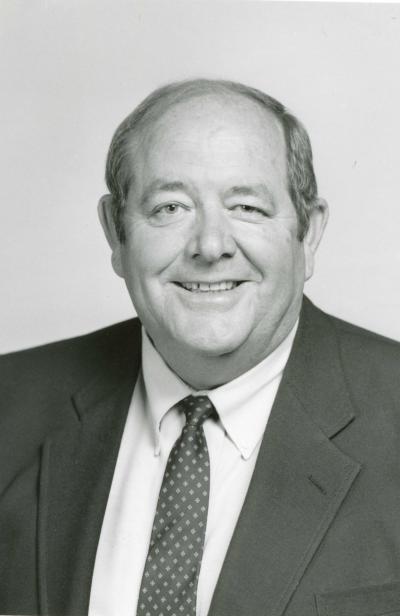 H.C. "Bill" McLellan Served as Southern Miss Athletics Director from 1986-1999.
H.C. "Bill" McLellan, who served as director of athletics at The University of Southern Mississippi from 1986-1999, died Monday after a brief illness. He was 81.
A memorial service will be held at noon ET, Thursday, Oct. 3 in the Sanctuary of First Presbyterian Church, Greenville S.C. The family will receive friends from 10:30 to 11:45 a.m. Thursday in the Parlor of First Presbyterian Church Greenville prior to the service.
A graveside committal service will be held in Woodland Cemetery "Cemetery Hill" on the campus of Clemson University at 3 p.m., later that day. The family will receive friends immediately following the committal service in the Tiger Den at Memorial Stadium in Clemson.
McLellan is widely recognized for his many accomplishments during his 13-year tenure leading Southern Miss and also helped the school to become a charter member of Conference USA in 1996. The Dillon, S.C., native became just the third full-time athletic director in the history of the school in the summer of 1986. He had served as assistant athletic director and athletic director of Clemson University for nearly 30 years when he arrived at Southern Miss.
"Bill touched many people in both his personal and professional life, and he will be greatly missed by all who knew him," said Southern Miss President Rodney Bennett. "Our hearts go out to the family during this difficult time and they will remain in our thoughts and prayers."
During McLellan's tenure at Southern Miss, major facility improvements and additions were made, including the Track and Soccer Complex, the construction of the Pat Ferlise Center, the first state-of-the-art scoreboard at Roberts Stadium, a Student Services Center for athletics facility, the addition and improvements at Pete Taylor Park and the M-Club annex. In addition, he also finalized the plans for construction of the current Duff Athletic Center as well adding additional women's sports.
McLellan coordinated an athletic budget at Southern Miss that grew from $2.7 million in 1986 to almost $10 million when he left, while overseeing a program that won championships, played in bowl games and participated in postseason competition.
"Bill McLellan came to USM at an important time in our history," said Southern Miss President Emeritus Aubrey Lucas, who hired McLellan. "Roland Dale had just completed his tenure as our athletic director. We had made impressive achievements under his leadership, but Bill added to that success. He came with contacts throughout the nation in the area of athletics, and those contacts and his reputation were instrumental in our being included in Conference USA."
McLelland was a major force in the formation of Conference USA. As then Conference USA Commissioner Mike Slive said of McLellan's influence during the league's early days, "The accomplishments and achievements of Conference USA in the short time it has been in existence would not have occurred without the input and great leadership provided by Bill McLellan."
"I first met Bill as a young administrator at the University of Houston in 1995," said current Southern Miss Athletic Director Bill McGillis. "We were together in many of the founding meetings of Conference USA, and he made an immense impact on me at that time. I loved his straightforward approach, and he was someone whose counsel I knew I could trust and value from day one."
A football letter winner at Clemson from 1952-54, McLellan earned an undergraduate degree in agronomy in 1954 and a master's degree in agricultural economics in 1956. He began working in the department of agricultural economics after he received his master's, then moved to work in the athletic department. He started working for Frank Howard in the business office and later went into coaching. When Howard retired as Director of Athletics in 1971, McLellan replaced him.
He was inducted into the Southern Mississippi Athletic Hall of Fame in 2001 and also received the Clemson Alumni Distinguished Service Award in 1982. He was inducted into the Clemson Athletic Hall of Fame in 1993. This past May, he was inducted into the South Carolina Athletic Hall of Fame.
McLellan is survived by his wife Ann and children Suzy, Bill, Cliff and Arch Anna. Condolences may be expressed online at www.robinsonfuneralhomes.com or at Duckett-Robinson Funeral Home, Central, S.C.