Southern Miss Alumni Artist Series Presents Mezzo-Soprano Thacker
Mon, 01/14/2013 - 10:44am | By: Mike Lopinto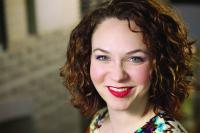 Dr. Hope Fairchild Thacker
The School of Music at Southern Miss welcomes alumna mezzo-soprano Hope Fairchild Thacker back to campus for a solo recital on Friday, Jan. 25 at 7:30 p.m. in Marsh Auditorium on the Hattiesburg campus.
The program features selections by Wolf, Poulenc, Montsalvatge and Menotti. Also on the program are American art songs by Larsen, Bolcom, Heggie and Moore. The recital is free and open to the public.
"I really am excited to come because this is the first performance I've done at Southern MIss since graduating in 2004," said Thacker. "Very few of the people I grew up and were educated by have seen me perform or heard me sing in the last decade because I've been out of state. And I'm rather proud that alumni like myself want to come back and still be a part of our alma mater."
One might think growing up in a small town would make a career path as a classical musician challenging. For Purvis native Thacker, those challenges were easily overcome with an innate love of music and the support of a nurturing family firmly rooted in the principles of hard work and dedication.
Thacker began her musical journey at an early age, first taking piano lessons with her mother Susan Fairchild. Not satisfied with just piano, she took up the violin and sang in the Hattiesburg Children's Chorus under the direction of Althea Jerome and Beverly Shaw, which presented her with not only her first exposure to opera, but also to Southern Miss. It was this introduction to opera and the stage that ignited her deep passion for the performing arts.
Thacker turned her attention to the violin and achieved a position in the top ensemble of the Southern Miss All South Honor Orchestra as an eighth grader, a rare feat. However, the call of the trumpet was too much for the young violinist, and she turned her attention to that instrument, eventually earning a position in the Mississippi Lion's All State Band.
With her academic prowess and musical talent, the decision to attend Southern Miss was all but made for her when she was presented with both a music scholarship and a Presidential Scholar award. The rigors of Honors College and being a music major were not enough for Hope, and in addition to her vocal studies, she was recruited by Dr. Larry Smith to ring in the handbell choir, Carillon.
The School of Music played a large role in preparing Thacker for her recent success at the National Association of Teachers of Singing Artist Awards competition in Orlando, Florida. Her studies at Southern Miss had seen the alumna through the national semifinalist round of NATSAA in 2004, a first for a Southern Miss student. The combination of the solid musical background provided by the School and the wealth of experience presented to her by her voice professor Smith, helped prepare her for her national fourth place finish in June 2012.
Some of her fondest memories include performing the role of the Witch in Into the Woods under the direction of Obra Quave, participation in a European tour with Carillon under the direction of Smith, and performing with The Southern Chorale under the direction of Dr. Tim Koch and Dr. Gregory Fuller.
Thacker holds a BMEd degree with vocal/choral emphasis and a MM degree in choral conducting and vocal performance from Southern Miss. She completed her doctoral studies in vocal performance at the University of North Carolina at Greensboro. As a lyric mezzo-soprano, she performs regionally in recitals and oratorio and teaches voice at Union University in Jackson, Tenn.
In Fall 2013, Thacker will be making her Carnegie Hall debut, giving a solo recital in Weill Hall, presented by Distinguished Concerts International New York (DCINY). She resides with her husband, Dr. Brian Thacker, and their three sons, Hartley (5), Robert (3) and Joseph (1).