Southern Miss Dedicates Massive Golden Eagle Statues on Campuses
Fri, 10/25/2013 - 09:20am | By: Van Arnold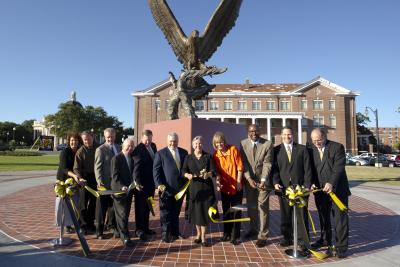 The University of Southern Mississippi held an official dedication ceremony of the "Lofty Return" golden eagle sculpture on the Hattiesburg campus on Oct. 24. (Photo by Kelly Dunn)
University of Southern Mississippi alumnus Chuck Scianna gazed upon the massive golden eagle sculpture he commissioned for the Hattiesburg campus and acknowledged that artist/sculptor David Anderson had met the No. 1 criteria.
"All I told David was that I wanted to be wowed," said Scianna. "And he has wowed me alright, with an exclamation point."
On Thursday, Oct. 24, Scianna and his wife, Rita, joined Southern Miss officials, alumni and friends for the dedications of two golden eagle sculptures – on the Hattiesburg campus and Gulf Park campus in Long Beach. Named "Lofty Return," the sculptures symbolically tie the campuses together while welcoming graduates back to their alma mater.
"Southern Miss plays an important role in preparing young people to go out into the world and the idea was to have something on campus that would welcome them back to the nest, so to speak," said Scianna. "And this is not for me. This is for us. We are tied to this place economically and emotionally. This golden eagle symbolizes what this great university means to all of us."
The Hattiesburg eagle is positioned at the apex of the Rose Garden that faces Hardy Street. The 6,000-pound sculpture measures approximately 22 feet tall by 20 feet wide, by 8 feet deep and rests atop an 8-feet-high pyramid-shaped base. Anderson, an internationally recognized artist/sculptor based in Idaho, spent more than a year meticulously designing the piece.
"We are extremely grateful for this gift and all that it says about the generosity of Southern Miss alumni, the ambition of this university, and the spirit of its people," University President Rodney D. Bennett said. "Chuck often references Ross Perot who says that turkeys flock, but eagles soar. It will be apparent to all who see this statue that this University welcomes its alumni and friends home, and intends to soar to new heights with their help."
The Gulf Park sculpture is somewhat smaller at 11 feet wide by 14 feet high by 5 feet deep.
"This is a memorable day for us because the Gulf Park campus has a new and exceptional icon representing Southern Miss," said Dr. Frances Lucas, Southern Miss Gulf Coast vice president and campus executive officer . "This golden eagle will serve as the centerpiece of Mississippi's only beachfront campus. We are proud to have both a sculpture in Hattiesburg and on the Gulf Park campus tying us together as one university."
The Hattiesburg sculpture is dedicated in honor of former University President Martha D. Saunders, while the Gulf Coast sculpture is dedicated in honor of former University President Aubrey K. Lucas. Both were on hand for the official dedications.
Scianna approached University officials more than a year ago with the sculpture idea and initial plans called for the unveiling to take place during Founders' Day festivities on April 1 of this year. However, the Feb. 10 tornado that struck the Hattiesburg campus put those plans on hold.
The sculpture placement has subsequently been incorporated into a Front Campus Landscape Restoration and Enhancement Plan the University began in mid-April. The landscape plan coincides with the USM Foundation's Campus Beautification Campaign – a fundraising initiative to help defray costs of the restoration efforts. None of the money pledged to the beautification campaign was used to finance the eagle sculpture.
Scianna is president of Sim-Tex L.P., one of the leading suppliers of API-certified oil country tubular goods. A 1975 graduate, Scianna's love for Southern Miss is evident in the $6 million gift commitment he made toward construction of a new building for the College of Business. Named Scianna Hall, the 93,000-square-foot facility is currently under construction and set to open in fall, 2014.
The second phase of the campus landscaping plan is currently underway – which includes building new sidewalks, seating areas and lighting for the renowned Rose Garden.
For more information about the Campus Beautification Campaign and to view the restoration plan visit www.usmfoundation.com/restore