Southern Miss Football Players, Coaches Visit DuBard School
Thu, 08/22/2013 - 02:29pm | By: Van Arnold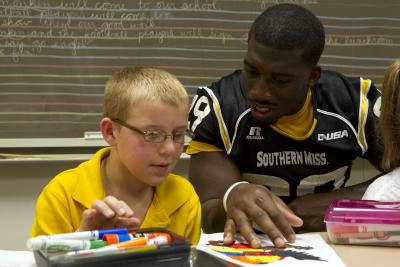 DuBard School student Eric Graves, 9, of Petal, Miss., shows his work to Southern Miss senior running back Kendrick Hardy. (Photo by Kelly Dunn)
Members of The University of Southern Mississippi football team took part in Go Gold Day during a visit to the DuBard School for Language Disorders on Thursday, Aug. 22.
Players and coaches interacted with the DuBard School students who collected autographs and other memorabilia. The annual visit also included a tour of the facility and explanation of the school's history by DuBard staffers.
The Southern Miss Golden Eagles open the 2013 football season at home on Saturday, Aug. 31 against Texas State. Kickoff is set for 6 p.m. at M.M. Roberts Stadium.