Southern Miss Holds Fall 2013 Commencement Exercises on Hattiesburg Campus
Mon, 12/16/2013 - 11:15am | By: David Tisdale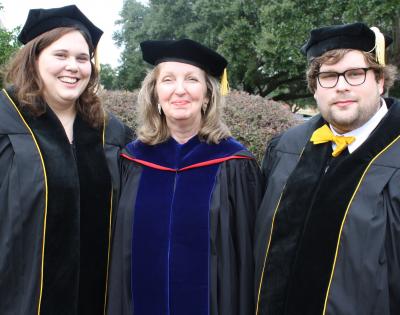 From left, Rebekah Young, Dr. Lilian Hill and Jim Hubert Young III. Rebekah and Jim, brother and sister, graduated with their Ph.D.s Dec. 13 during fall 2013 commencement exercises on the Southern Miss Hattiesburg campus. Dr. Hill served as their faculty adviser.
Their sibling rivalry propelled Rebekah Young and her brother Jim Hubert Young III to Friday's commencement ceremonies at The University of Southern Mississippi, where they joined other graduates receiving diplomas on the Hattiesburg campus Friday, Dec. 13. More than 1,100 students were candidates for degrees this fall semester as the university held two graduation ceremonies.
Both Rankin County, Miss. natives earned a Ph.D. in Higher Education Administration through the College of Education and Psychology's Department of Educational Studies and Research. Rebekah examined disparities in education in her dissertation, while Jim's research focuses on federal funding in higher education.
Jim Young plans to pursue a faculty position in academia now that he has his diploma, and is grateful to his sister for pushing him along in his studies. "I'm prone to procrastinate, and she's highly motivated," he said.
Rebekah Young, who works at the university's Institute for Disability Studies, said she's thrilled be finished and happy to have had her brother's support along the way. "But I was not going to let him beat me (to graduation)," she said.
Associate professor of education Lilian Hill, who served as faculty adviser for both Rebekah and Jim, praised the two for their hard work and dedication to meeting the deadline they set of graduating this semester.
"Both took on ambitious dissertations that were different in character and methodology, helped each other with editing and other tasks, and created final products that they can be proud of," Hill said. "They're a credit to the university."
Chloe Rouse of Oak Grove, Miss. graduated with a degree in broadcast journalism and a minor in theatre. Currently a photographer for Signature magazine, she will also begin work with C Studio after graduation.
"I feel that everyone I have met at Southern Miss has helped shape me as a student, a friend, and a worker, and I am a better person because of it," Rouse said.
Riva Brown of the Catahoula community in Hancock County, Miss. received her doctoral degree in mass communication. Brown recently joined the faculty at the University of Central Arkansas in its Department of Communication. "I'm so grateful to all of my professors in the School of Mass Communication and Journalism at Southern Miss," Brown said. "I love the university and can't imagine a better place to have received my education."
State Supreme Court Justices James Kitchens and Randy Pierce, both Southern Miss graduates, split commencement speaking duties with Kitchens addressing graduates at the morning ceremony and Pierce speaking at the afternoon event.
Kitchens said Southern Miss is "an integral and very important part" of his life." "A lot has changed since I was a student here in 1964, but not the spirit of this great university, which is still very vibrant and getting better," he said. "These graduates are leaving here well-armed and ready for the world, just as my education from here has stood me in good stead."
His message to students was straightforward – "The importance of being where you're supposed to be." "It may sound cliché, but the world is run by those who show up," Kitchens said. "It's important to understand where you're supposed to be and when you're supposed to be there, and what devastating consequences can develop when you're not."
Pierce, who also serves as an adjunct professor in the Southern Miss School of Criminal Justice, said he was humbled to be asked to serve as commencement speaker. He reflected on the people at the university who positively impacted his life, in particular one of his accountancy professors, Dr. Paul Torres.
"College is more about people than a particular place or buildings," he said. "It's about professors like Dr. Torres who make a difference in your life, those faculty and administrators who have such a great opportunity to affect student's life academically and, ultimately, professionally."
Pierce told the graduates as they moved on to the next phase in their lives to respect themselves and others; remember that a strong work ethic is the engine of success, to set goals, but be flexible; to surround themselves with positive people, but to discern the difference between negativity and constructive criticism.
He also urged them to remember when they needed to slow down and find balance in life. "Go and enjoy the opera, or a symphony, a nice play, read a good book or go outside and witness all the beautiful things like a beautiful stream or sunset the great architect of our universe has provided for us to enjoy," he said. 'Slow down and enjoy all these aspects of life."
Southern Miss President Rodney Bennett said that "commencement is really why we do what we do, and that's helping our students get to graduation," he said. "Today they go forward to make a positive difference in their community."
Bennett praised Kitchens and Pierce as being great examples of what one can accomplish with a degree from the university. "They show our graduates how far a USM degree can take you," he said.